University:

Email Address:

Phone Number:

CEA Directory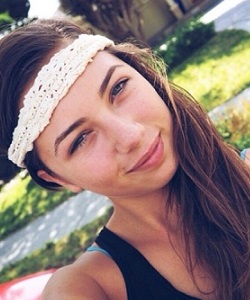 California Polytechnic State University-San Luis Obispo
Prague, Czech Republic
Fall 2019
Stella Bradley, Alumni Ambassador
Alumni Ambassadors
1. How has your study abroad experience shaped you?

During my time abroad, I have developed personally and professionally. My public speaking skills improved, which will be helpful for my future career. The main way I achieved this was by speaking at the CEA Student Reflections Abroad conference. I crafted, rehearsed, and delivered a speech about how vlogging while abroad enhanced my experience with culture, friendships, and overcoming challenges. That leads me to my next point; vlogging increased my digital editing and recording skills, which is a personal hobby of mine. While I was in Prague and other nearby countries, I filmed and edited my experiences into short vlogs that CEA posted on their YouTube channel. You can watch one of the vlogs here:
https://www.youtube.com/watch?v=GzzKdToppaE
. Finally, studying abroad eliminated my fear of public transport. Public transport has always been an intimidating concept for me, but using it on a daily basis while abroad forced me to figure it out. Public transport is basically unavoidable in many parts of Europe, so I prospered from the "learn by doing" approach to using it. This could be considered a professional and personal development.
2. What do you wish you had known before going?


One thing I wish I knew before studying abroad is that you can't compare your life abroad to your life at home. I figured this out towards the middle of my time abroad. In America, most of the time, I have a fixed schedule for my day-to-day life. I carefully manage my meals, workouts, studying, time with friends, and hours of sleep. When I first came abroad, I tried to align those aspects my life in Prague with the way it was back home. However, due to factors such as different class formats, traveling, and grocery stores in another language, it was impossible. Instead of biting all my nails off from the anxiety this caused, I took a different approach. Whenever I felt that feeling of "oh no, I would never do something like this back home", I told myself it was okay and that this is an entirely different life for the time being. Eventually, those feelings of worry faded away and I learned not to compare apples to oranges.