University:

Email Address:

Phone Number:

CEA Directory
site specialists Team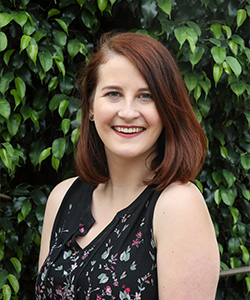 Kayla McGuire
Site Specialist
It has been years and I'm still just as in love with Sevilla as the day I stood across the river overlooking the city on my first day. My yearlong experience as a student through CEA transformed my life—now, working for the Enrollment department, I come to work each day prepared and excited to aid my students in making their experience abroad the best it can be.
I grew up close to Philadelphia, Pennsylvania and earned my bachelor's degree in Languages and Cultures with a Spanish concentration from West Chester University. While in college, I got the opportunity to study at the Universidad de Sevilla in Seville, Spain through CEA's program! I was incredibly lucky to get to visit most of Spain while abroad, as well as Italy, France, Portugal, Africa, and Greece. Travel has remained a constant passion of mine—I've been back to Sevilla every year since I've left, and I hope to explore South America very soon!
Being an international student was, and remains, both the hardest and best thing I've ever done for myself. I learned to be self-sufficient, learned how capable I truly was. I became spontaneous. I fell in love with a city and its people—along the way, I fell in love with myself.
I think that the ability to see so much light, so much good, in a place that originally seems foreign is such a beautiful thing. What a lesson—both personally and professionally, study abroad pushes a person to be the best possible version of themselves. I look forward to helping future students discover this and so much more!
Outside of work, I like to sing and listen to live music! I read every day, and spend time with my friends and family as much as I can.
...
MORE
Read More
Ashleigh Tait
Site Specialist
Ashleigh lived in Rhode Island for most of her childhood. She earned a duel degree from MassArt in Art History and Photography in Boston. While in college Ashleigh studied abroad in Rotterdam in South Holland. While in the Netherland, Ashleigh became passionate about other countries and cultures.
After graduation, Ashleigh left the USA to teach in China. There she learned about the Visa process and assisted new hires with moving to China. From then on Ashleigh knew she wanted to pursue a career in facilitating an international experience for others. As a Site Specialist at CEA Ashleigh advices student when they are enrolled in CEA. In this role Ashleigh is able to connect with students about their passion for travel and their excitement for their study abroad experience.
Outside of work Ashleigh enjoy many outdoor activities like camping and hiking. She loves to paint, woodwork and embroider. Throughout her life Ashleigh has been to 25 countries and is passionate about learning about new cultures and traveling the world.
...
MORE
Read More