University:

Email Address:

Phone Number:

CEA CAPA Directory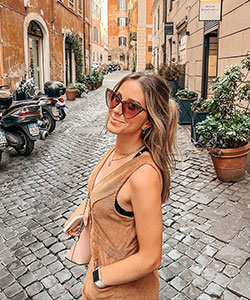 Juliana Mantz, Content Creator - Videographer
Content Creators
Why did you choose to study or intern abroad?
I absolutely love to explore, see new places, and experience new things. During college is the perfect time to travel, therefore an opportunity to study abroad seemed like a no-brainer for me!
Why did you choose your study/intern destination?
I chose to study abroad in the French Riviera because the French culture appealed to me! (OK and the baguettes and crepes!) France is so central in Europe, so it will be a great chance to go to the beautiful surrounding countries.
What are you most looking forward to during your study/intern experience?
I am looking forward to learning in an extremely different culture and environment and studying all about France. I am also looking forward to discovering new things and aspects about myself!
what's a Fun Fact about you (hobbies, interests, accomplishment, etc.)?
I love to sing, play piano, and write songs!