University:

Email Address:

Phone Number:

CEA CAPA Directory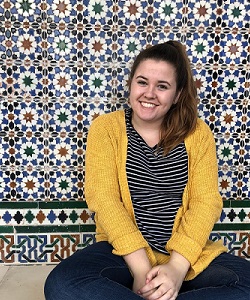 Illinois State University
Granada, Spain
Spring 2019
Haley Sommer, Alumni Ambassador
Alumni Ambassadors
1. Why would you like to be an Alumni Ambassador?

I would like to be an Alumni Ambassador so that I can continue to share about my life changing study abroad experience and so that I can lead other people toward a similar experience through studying abroad with CEA. Since coming home from Spain, I have loved sharing about my experiences abroad. I want to continue to share in an impactful and beneficial way. I have so many pictures and videos from my time abroad that I love showing off. My photography and videography skills grew immensely while I was studying abroad. I believe that these pictures and videos may be helpful in my position as an Alumni Ambassador. Since I had such an incredibly life changing experience, I want to give back and help lead others toward this experience. I have a passion for improving the lives of others and I would love the chance to help them discover the adventures of a study abroad experience with CEA. I want to help connect my life abroad with my life home and continue to grow with the support of CEA. I also would love the opportunity to return to Granada as
an onsite Alumni Ambassador.
2. How has your study abroad experience shaped you?


My study abroad experience is one of the most impactful events of my life. In terms of my career, I was able to vastly improve my Spanish skills and achieve an advanced level of oral proficiency. I also gained a deep understanding of the Spanish culture. Both of these are extremely important as I move toward my future career as a high school Spanish teacher. I gained so much knowledge first hand that I will be able to pass down to my students. Not only was I able to grow academically as I improved my Spanish language skills, but I also grew personally. I gained important skills related to independence as I had to manage a new life without the support of the people who are usually right by my side. I went to a place that was completely new and unknown to me, and 5 months later, it was my home. Leaving the city that I grew to love and the host family that became my second family was harder than I could have possibly imagined. Study abroad gave me lifelong friendships and memories that I will treasure forever. I would not be the person I am today if it wasn't for my study abroad experience.