University:

Email Address:

Phone Number:

CEA CAPA Directory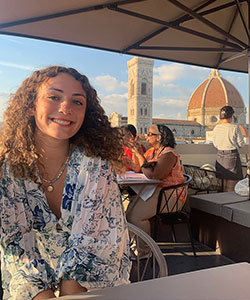 Catherine Powers, Content Creator - Blogger
Content Creators
Why did you choose to study or intern abroad?
I chose to study abroad in France because I wanted to force myself out of my comfort zone in order to experience a new culture. I love traveling and studying abroad aligns well with that passion. It is the opportunity of a lifetime to do so.
Why did you choose your study/intern destination?
I chose to study abroad in the French Riviera because of its picturesque proximity to both the beach and mountains. I also love how the location is close to many other big European cities and small villages that I can explore while I am there.
What are you most looking forward to during your study/intern experience?
I am most looking forward to spending my weekends traveling to other European countries and French cities. I want to see and experience as much as I can while also taking in the French culture and meeting new people!
what's a Fun Fact about you (hobbies, interests, accomplishment, etc.)?
I am a barista and am a big coffee lover! I spend a lot of time trying as many coffee shops as I can.