University:

Email Address:

Phone Number:

CEA CAPA Directory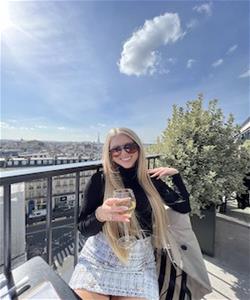 Texas A&M University
Granada, Spain
Summer 2022
Anna Featherston, CEA Content Creator
Content Creators
Why did you choose to study/intern abroad?
Inspired by the ladies of The Cheetah Girls 2 in Barcelona, I have wanted to study abroad in Spain for as long as I can remember. It was always something I wanted to do but was a little scared to actually sign up for. As a senior, I finally decided to go for it, and I can't wait to see how it goes!
Why did you choose your study/intern city?
I picked Granada, Spain for study abroad because it is unlike anywhere I have ever been before. I found the mountains and Arabic culture very intriguing, and I am very excited to see what it's really like in person!

What are you most looking forward to during your abroad experience?
During my abroad experience I am very excited to see and learn new things. I plan to do some weekend traveling when I don't have class and hope to explore the surrounding areas of Spain!
Fun Fact (hobbies, interests, accomplishment, etc.)?
Fun fact: I've been taking Spanish classes since 7th grade, but my time in Granada will be my first time actually pursuing it!