University:

Email Address:

Phone Number:

CEA CAPA Budapest, Hungary Directory
Budapest, Hungary Leadership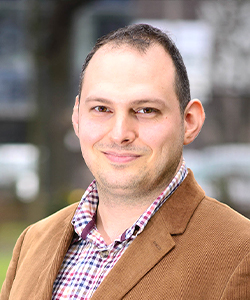 Karoly Kopasz
Program Director – Budapest
As Program Director for Budapest, Károly's mission is to provide CEA students the opportunity to see the real faces of Hungary and make their stay a life-changing experience. Károly is responsible for onsite operations and services.
Károly has over a decade of experience in international education. He was Erasmus program officer and coordinator at Pázmány Péter Catholic University (Hungary), and later he served as the Head of the Campus Hungary Scholarship Board office at the Balassi Institute. This program helped over 10,000 Hungarian university students to gain international experience abroad. For a year at CIEE Budapest, Károly was responsible for the coordination of the Hungarian-American Enterprise Scholarship Funds program and also had responsibilities at the CIEE Budapest Study Center. He currently holds a position at Budapest Metropolitan University, the biggest private university in Hungary, managing exchange programs and other EU projects.
Károly holds two M.A. degrees from Pázmány Péter Catholic University from History and Communication and Media Studies. In his free time, he enjoys spending time with his family, cooking, reading, and gardening. He loves to travel. His furthest North: 69.6492° N – Tromsø, Norway. Furthest South: 45.0312° S – Queenstown, New Zealand. He's hoping to push the limits and go beyond them.
...
MORE
Read More