University:

Email Address:

Phone Number:

CEA CAPA Directory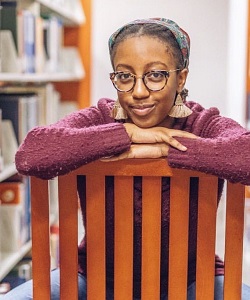 Xavier University of Louisiana
San Jose, Costa Rica
Summer 2019
Shamari Pitts, Alumni Ambassador
Alumni Ambassadors
1. What was your favorite course while abroad?
My favorite course abroad was Spanish 2051, "Spanish for Healthcare Professionals." I enjoyed this course a lot because it was relevant both inside and outside of the classroom. The material learned in this course was health terms and vocabulary in the Spanish language which consisted of hospital terms, the body and its illnesses/diseases, and common phrases and dialogue that healthcare professionals would use to speak with patients and their families. Everything I learned in Spanish 2051 was relevant to the outside world. I realized this during my second rotation at the local Hospital Clínica Bíblica. I shadowed a general physician while he was seeing a fourteen year old patient who was feeling under the weather. While I stood in the room as he was checking her, I got to listen in on the conversation between the doctor, the patient, and her mother. I heard so many of the words and phrases (of cold and flu symptoms) I was studying and memorizing that same week for an upcoming quiz. The real life dialogue that occurred during my rotation gave me confirmation that my Spanish 2051 class was very relevant and helping me learn a lot.
2. How has your study abroad experience shaped you?
My study abroad experience has shaped me today both career-wise and personally. In relation to my future career as a healthcare professional, studying abroad in (especially) a Spanish speaking country helped give me insight to the possibility of bridging the gaps in the health/medical field. In the U.S., many Spanish-only speakers are reluctant to seek the proper health care or are not treated with the most quality care due to the lack of understanding of language and culture from healthcare professionals. Studying abroad has advanced me in my goals of helping to bridge these gaps. Personally, my experience has shaped me because I am now a more open-minded and culturally aware young woman. I became more open minded and culturally aware after being in environments I was not used to and engaging in conversation and interaction with local people of my study abroad destination.