University:

Email Address:

Phone Number:

CEA CAPA Directory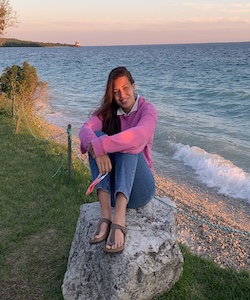 Tulane University
Dublin, Ireland
Summer 2022
Rachel Rudolph, CEA Content Creator
Content Creators
Why did you choose to study/intern abroad?
I wanted to experience living in a different country and expand my worldview.
Why did you choose your study/intern city?
I chose Dublin because I wanted to experience living in a new city while also spending a lot of time in nature. Ireland has plenty of incredible cliff walks and seaside towns to explore which are easily accessible through their public transport system. I was also searching for countries with a child psychology program and Dublin offered the perfect coursework.

What are you most looking forward to during your abroad experience?
I'm excited to meet people from around the world and expand my knowledge in and out of the classroom.
Fun Fact (hobbies, interests, accomplishment, etc.)?
I love yoga and hiking!