University:

Email Address:

Phone Number:

CEA CAPA Directory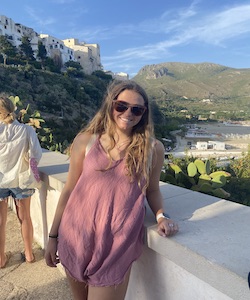 University of Colorado Boulder
Rome, Italy
Summer 2022
Maja Sakiewicz, CEA Content Creator
Content Creators
Why did you choose to study/intern abroad?
I chose to study abroad because although I have been to Europe many times before, I was always with my family on vacation. I've always wanted an individualistic experience to expand my horizons. My mom took a gap year after she finished high school to work in Canada and growing up, I loved hearing her stories about how much fun she had and how much she grew. This inspired me to want to do the same.
Why did you choose your study/intern city?
I chose Rome mostly because the classes that were offered through the 'Engineering in Rome' CEA program made the most sense for me and my degree plan. I knew that I would be getting ahead by taking engineering courses over the summer while also being in one of the most beautiful cities in Italy that embraces modern trends while also staying true to old traditions and rich history.
What are you most looking forward to during your abroad experience?
I am most looking forward to meeting new people and having the chance to explore such a large city with people who are my age and crave the same experiences as I do. I am also extremely excited to learn about the culture of Italy through its famous cuisine, museums, and historic nature.
Fun Fact (hobbies, interests, accomplishment, etc.)?
Both of my parents grew up in Austria and I can speak German fluently! I love to hike, run, and ski as well!