University:

Email Address:

Phone Number:

CEA CAPA Directory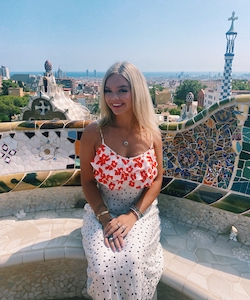 Lynn University
Barcelona, Spain
Fall 2021
Madison Park, CEA MOJO Videographer
Content Creators
WHY DID YOU CHOOSE TO STUDY ABROAD?
I chose to study abroad to challenge myself to gain independence in a new beautiful environment. Change happens naturally, but I wanted to grow in different ways and Barcelona will give me the feeling and life lessons that I'm looking to endure. I wanted to be inspired by something greater than my understanding. Also, doing my part in society by learning about new cultures and seeing the rest of the world is something everyone should do. Knowledge is power, and the world has so much to give.
Why did you choose your study/intern city?
There was no specific reason why I chose Barcelona. The second I saw it as an option I knew it was where my next journey was going to be!
What are you most looking forward to during your abroad experience?
Definitely being emerged into a new culture and everything that comes with it regarding food, night life, the people, and the views.
Fun Fact (hobbies, interests, accomplishment, etc.)?
I play lacrosse for Lynn University. I am a creator within my videos but also music as well. I love to write music and sing. I created my own clothing line called Heaven on Earth. I enjoy the beach, traveling, and being with my family and friends.