University:

Email Address:

Phone Number:

CEA CAPA Directory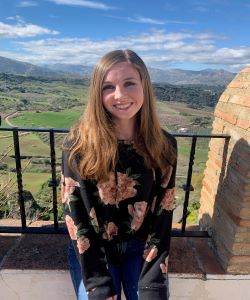 Illinois State University
Granada, Spain
Spring 2020
Lauren Conners, Alumni Ambassador
Alumni Ambassadors
1. Favorite Course Abroad?
Interestingly enough, the class that made the most significant impression on me was one that, frankly, I was least excited for: Contemporary Spanish Art. Having never been very interested in the arts, I was very uncomfortable with the idea of spending 13 weeks studying this unfamiliar topic. However, the delicate precision with which my professor explained various pieces and the unmistakable passion he exhibited for artwork instilled in me a new appreciative understanding of the beautiful complexities that go into the arts. As the semester continued, and I was given a more complete artistic lexicon, my experience was that much richer and I found myself enthralled in the work of Gaudí, Picasso, Dalí, and many other important figures. Given that this unfamiliar topic was also taught completely in Spanish, I was forced to step outside of my academic comfort zone and challenge the bounds of my interests. This experience is the perfect example of the power of studying abroad: the opportunity to accept new opportunities and the chance to explore new versions of yourself that you did not know existed. While I may not go on to study art history, I will certainly discover richer experiences with the art all around me.

2. How did your study abroad experience help shape you?
When I came home from studying abroad, my family was shocked at how much I grew. I left the country as a timid, routine-oriented girl and returned with amazing stories, new experiences, and a quite impressive palette. It took a while to convince my relatives that I was no longer the young child who would cringe at food that was not chicken nuggets and pizza, that I loved seafood and exploring the gastronomy of a new place. Everyone had told me before I studied abroad that I would become more independent, but I had not realized how dramatic and rapid a shift it would truly be. I had learned how to adapt to a new city and culture, travel by bus, taxi, and airplane alone, and just learn to accept the new and uncomfortable. Grappling with the novelty of living in a new country was certainly intimidating at first, but it revealed to me the beauty that exists just outside of the comfort zone. I have changed from my study abroad experience because I have learned to not only embrace the unfamiliar, but seek it.