University:

Email Address:

Phone Number:

CEA CAPA Directory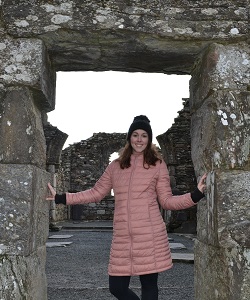 Colorado State University
Dublin, Ireland
Spring 2019
Anna Galindo, Alumni Ambassador
Alumni Ambassadors
1. What were ways you found to experience the local culture?


While I was studying in Dublin I had several opportunities to experience and dive into the local culture. One of my favorite things to do during my time in Ireland was to go to all the small local pubs and hear all the live music and in some cases even go out on the floor and learn some of the Irish dancing. Through this experience I got to connect with a lot of locals and really learn about the importance of their music and coming together as a community. Another way I got to experience the culture was whenever I would talk to locals I would always ask them what they recommended seeing or doing around Ireland which lead me to some of my favorite times abroad. There was one weekend my friends and I took a trip to the very south of Ireland to a little village called Kinsale and we hiked up to an old 1600's fort that was right on the water and were able to learn the history behind it and the significance of it to the village of Kinsale. Another conversation with a local in Galway ended with me learning the story and importance of the Claddagh ring and how huge the tradition is to the Irish people.
2. How has your study abroad experience shaped you?

Overall I would say that my study abroad experience has made me more confident in myself and my abilities. Before going abroad I tended to be more shy and hesitant in participating in different activities around campus. But since being back I have spoken on several study abroad panels to try and encourage others to go abroad, before going abroad I would have never thought about doing any public speaking voluntarily. I also have been able to make more international friends because I am more confident in my communication skills with international students because of all the practice I got while studying abroad.

Studying abroad also opened my eyes to the opportunities that are available abroad and how much there is to see in the world. Without going abroad I would not be looking into Master programs over seas and would not be as interested in International Business and Marketing as I am today.