University:

Email Address:

Phone Number:

CEA CAPA Directory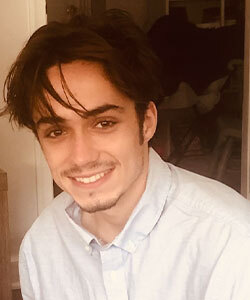 West Chester University of Pennysylvania
Florence, Italy
Summer 2022
Julian Frick, CEA Content Creator
Content Creators
Why did you choose to study/intern abroad?
I was supposed to graduate with full credits this past May, but my school made an error with my class schedule at the last minute, so I had to drop a class. When that happened I was very pessimistic I can't lie, but then I realized that I could turn this opportunity into the best finale for college that I could ask for. And I chose to study abroad due because it's an opportunity like no other, especially at this age. I often hear from people a bit older than me that their only regret was that they wished they had traveled more when they were my age. So, I wanted to make sure that I wouldn't have that same feeling as I get older.
Why did you choose your study/intern city?
I chose Florence because it was the best option for my final college credits. And it just so happens that Florence is also one of the most beautiful places in the world. But I chose the country of Italy because I grew up with my grandfather, and I always idolized him. He would often talk about the beauty of Italy and how it was a destination travel for anyone. He passed almost 2 years ago now, and I noticed that the CEA program start date June 23rd was his birthday, so I took this as a sign.
What are you most looking forward to during your abroad experience?
I am looking forward to adapting to a new culture. I have heard that the European lifestyle is very different from the American way, and I am very curious to see the difference. I am also very excited to travel across the country via train, car, or on foot just to appreciate the beauty that Italy has to offer. Moreover, I am just ecstatic to hopefully disconnect from my phone a bit and to just take everything in that life has to offer. Finally, I can't wait to just meet and spend time with the new people that will be on the trip with me.
Fun Fact (hobbies, interests, accomplishment, etc.)?
Some things that I enjoy are playing guitar, going outside being active/traveling and drinking coffee. That sounds like the most basic tinder profile, but hey. I also love to dance for I even took ballroom dance lessons at one point, but to be honest it nearly broke my bank account. Of course like most people I enjoy watching movies/ TV shows during my downtime, and I am looking forward to seeing the new Elvis movie in Italy. Furthermore, I will say that comedy or humor is definitely a big part of my life whether it be in any content that I make, in conversation or during public speeches, which I kind of enjoy. And I will admit I do like going out at bars and being out for the night scene.