A Foodie's Favorite Places to Eat in Prague
I don't consider myself a Praha local, but I will say I did a good job of eating my way around the city during my semester studying abroad in Prague. Go beyond the fast food in Prague and try a few of my favorite foodie places I suggest if you're there for a week, a month, or the whole semester.
Cafes/Breakfasts
Kafe Francin:
This cafe is in Prague 7, across the bridge from the city center. They offer a large selection of coffees (and can make you an iced coffee which is rare here!) and make a delicious avocado toast.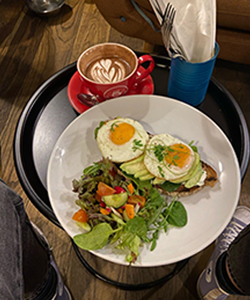 Acid Coffee:
Another Prague 7 treat, this coffee house is different from the rest. House music plays and the menu selection includes unique combinations of typical coffee options.
Lunch



Bageterie Boulevard:
These are located all over Prague, and remind me of a yummier Jimmy Johns. I recommend the Caprese or Caesar sandwiches for a lighter meal, with the side of potato wedges and tartar sauce. Usually it only costs about $6 which is a bonus too.
Banh-Mi-Ba:
There are two locations close to the city center of this delicious Vietnamese fast-casual restaurant. It's one of the few locations I can find that offers non-carbonated lemonade! I usually order the Bun Cha (pictured below) and a couple summer rolls on the side.
Puzzle Salads:
If you're craving something a little bit lighter, Puzzle Salads is right off of the Dlouha Trida tram stop. They create huge portions of salads, wraps, and quinoa bowls. You can't go wrong here, and the salads make great leftovers too.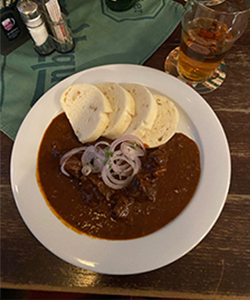 Dinner
Lokal:
This is a staple in Prague, and a must visit for any length of stay. Lokal is a chain spread throughout the entire city that makes every classic Czech dish. Goulash, fried cheese, and schnitzel are all delicious and filling.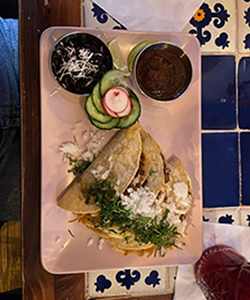 Las Adelitas:
There are two locations of this Mexican restaurant and both are super cute. Definitely book a reservation, even during the week it fills up quickly. Their hibiscus tea is a great starter, and the birria tacos are a favorite of mine.
Pasta Fresca:
This restaurant is steps away from the Old Town Square and serves homemade pasta. One of the few places I've eaten at that gives you complimentary bread to hold you over until your main dish comes. Everyone I've ever gone with has been happy with their meal, there is no bad dish on this menu. This is another reservation recommended restaurant unless you plan on eating around 5 p.m.
Find other foodie favorites in Sevilla, Costa Rica, Florence too. Where are your favorite foodie places around the world? Give us a taste of your faves in the comments below.
---
Kathryn Hilt is the Spring 2022 CEA MOJO Blogger in Prague, Czech Republic, and is currently studying at University of Iowa.