Staff Spotlight: Lenka Vystrčilová Ph.D., Academic Director - Prague
Lenka Vystrčilová provides leadership, oversight, and quality control across Prague study abroad academics. As the CEA CAPA Prague Academic Director, Lenka serves as the primary contact for students and staff when it comes to anything related to academics. She also manages maintaining connections with our partner institutions in Prague, Anglo-American University (AAU) and University of New York Prague (UNYP) by ensuring program content and delivery meets the needs of U.S. institutions and students. Lenka holds a doctorate in political science from the Ludwig-Maximilians University, a master's degree in Russian, East European, and Eurasian Studies from Stanford University, and a bachelor's degree in international relations and German studies from Lewis & Clark College.
WHAT IS YOUR ACADEMIC AREA OF FOCUS AND/OR INTEREST?
I am a political scientist with an interest in democratization and democratization theories, Central European politics, and EU studies.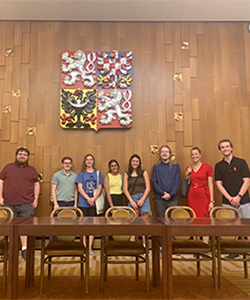 WHAT IS YOUR PROFESSIONAL BACKGROUND?
I have worked in the field of study abroad for 15+ years. As someone who has lived and studied abroad extensively, I feel very strongly about the value of studying abroad. I also researched at various think tanks and research institutions prior to working in study abroad. But being able to shape and support our students' academic paths and personal growth abroad has been an easy choice and a clear calling in my personal and professional paths.
HOW LONG HAVE YOU WORKED FOR CEA CAPA? WHAT ROLES HAVE YOU HELD?
I have worked at CEA CAPA as Prague Academic Director since 2013.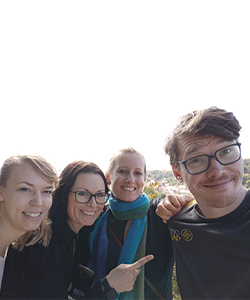 WHAT IS UNIQUE ABOUT THE ACADEMIC PROGRAMS IN YOUR CEA CAPA STUDY CENTER?
The multi-disciplinarily, diversity of academic approaches and perspectives, and the creative spirit. I enjoy being able to collaborate on a variety of lenses to get students passionate about learning and I much enjoy learning from my colleagues, faculty, and our students. As a political scientist, I naturally think about the quality of democracy in Central Europe and around the world. Whether our students explore arts, history, media communications, business, or international relations in Prague, they are likely to in some form be confronted with having to critically think about fundamental freedoms not being self-evident and automatically bestowed upon us. Prague breathes this living history, whatever your discipline of choice and learning to understand it can make our students more accountable individuals and responsible citizens.
WHAT DO YOU THINK MOST OF YOUR COLLEAGUES ARE SURPRISED TO LEARN ABOUT YOU?
I am pretty straight-forward. Unsurprisingly, no surprises.
WHAT DO YOU THINK THE FUTURE HOLDS FOR THE FIELD OF STUDY ABROAD?
I think that despite recent challenges and travel restrictions, studying abroad remains as important as ever. As educators, we have a tremendous opportunity to cultivate empathy, compassion, and intellectual honesty in our students within the unique context of their study abroad experience. Our Prague staff is dedicated to this mission and looks forward to welcoming more students to Prague.

Interested in partnering with CEA CAPA on a new destination or program? Reach out to your CEA CAPA Institutional Regional Director today.
---
Explore our CEA CAPA Staff Directory.