Diversity Abroad 2022 Conference Reflections and DEI
For 10 years the annual Diversity Abroad (DA) conference has embodied community, collaboration, learning, and inspiration. Legacy brands CEA Study Abroad and CAPA: The Global Education Network committed to continued membership with DA with Platinum Sponsorship of this year's 2022 Global Inclusion Conference. DA convened the 10th Annual 2022 Global Inclusion Conference (GIC22) in San Francisco from Oct. 4 to 7, and CEA CAPA colleagues were among over 450 participants in attendance. The conference consisted of over 70 sessions, three plenaries, two receptions, a gala awards dinner, and more.
CEA CAPA colleagues Randeep Kullar and Kassandra Carrasco attended and shared their thoughts and reflections from the conference below.
From Randeep Kullar (she/her) Institutional Relations Manager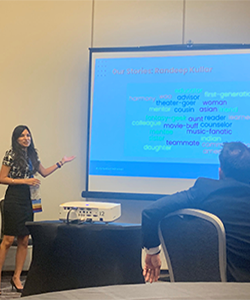 I have been involved with DA in various ways during my professional career. While my relationship with DA may change over the years, the mutual understanding of the importance of the work that needs to be done, the invigorating and transformative conversations, and the community building and support that I experience every time I attend the Global Inclusion Conference or participate in the work DA is involved in will not. GIC22 is evidence of this. I led or participated in sessions that encouraged attendees to:
Reflect on how the language of dichotomies we use in our daily lives (personal and professional) perpetuate biases that knowingly or unknowingly translate into our interactions with our students and colleagues

Share how their identities have impacted their professional careers in a room full of women of color (a powerful space many had never experienced before)

Examine how DEI work has changed over the years and where it stands today
Understand the variety of barriers that students with cross sectional identities face throughout the process of trying to access study abroad let alone go abroad

Recognize that the field of international education needs to look at itself more critically if it wants to truly understand and uphold the tenants of diversity, equity, inclusion, and belonging when supporting not only students, but also colleagues within the field itself
From Kassandra Carrasco (she/her/ella) Student Services Coordinator, Custom & Faculty-Led Programs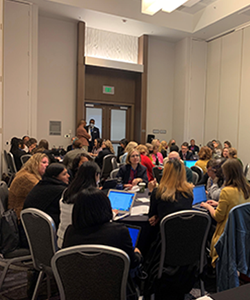 Attending GIC22 was transformational to say the least. Being surrounded by individuals passionate about justice, equity, diversity, and inclusion abroad was inspirational. Critical conversations and collaboration took place in order to strengthen our ongoing promise to support justice, equity, diversity, and inclusion (JEDI) within our organization and education abroad. People care about one another, and we care more when it comes to our students.
We want to open avenues that grant access to students of all backgrounds the opportunity to expose and grow their education abroad. From the first steps of program development to the first meal shared with the community in their host country, a JEDI focus is imperative towards an equitable student-centered experience.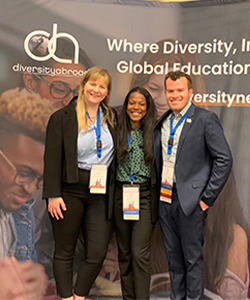 To further the conversation, collaboration, and reflection, join panelists made up of return and first-time attendees on Thursday, Dec. 1, at 12 p.m. EST for a special webinar where they'll reflect on lessons and highlights from GIC22 including highlights, lessons, and calls to action.

Interested in partnering with CEA CAPA on a new destination or program? Reach out to your CEA CAPA Institutional Regional Director today.
---
Explore our CEA Staff Directory.