Living and Learning by Studying Abroad in Paris
I remember feeling both scared and anxious the days leading up to participating in CEA CAPA's Engineering in Paris Program. As a Chemical Engineering major with a concentration in BioPharmaceutical Engineering, I took CEA CAPA's Differential Equations and Haute Couture courses in Paris during Summer '23. Although I traveled a good amount before, it's only ever been to the U.S, and I've never been somewhere that I can't understand or speak the language. I was born and raised in Panama City, Panama, and I was afraid that my lack of French would pose a problem and make living, learning, and studying abroad in Paris for six weeks extremely difficult. CEA CAPA was kind enough to provide us with tips, tricks, and basic phrases to help us get around during onsite orientation.


Tips and Tricks
We learned that you should always start a conversation with "Bonjour/Bonsoir" and end with a "s'il vous plait" (hello and thank you). It's polite and it makes things much easier to run smoothly, even if the rest is in English. Another thing that really helped me adjust to the change in language and environment was that my first language is Spanish, and French words are very similar to Spanish. I also knew basic French, so as I spent more time in France, pronouncing and understanding was easy for me (as it's very similar to what I know), but formulating my own sentences was the challenging part.
I also felt nervous making friends abroad, I feared it'd be a little awkward, and wouldn't feel genuine. Though as soon as I got to Paris, all my fears easily faded away. I quickly realized that we were all on the same boat. It was easy to put myself out and initiate conversation knowing that everyone was looking to make friends, and no one wanted to be alone. I formed my little group of friends around the third day of the program in the most spontaneous way too. Me and my friend, Brooke, from my Differential Equations class, decided to have a little picnic to celebrate our first day of class at the Eiffel Tower.




As we left the CEA CAPA Paris Center, someone else from our class, Toland, asked us what our plans for the rest of the day were, and we encouraged him to join us for our later picnic. Once there, my roommate, Brooke's roommate, and another girl I met the day before, also joined us. Then, Toland asked if it was okay to invite two guys he met in class and we happily agreed. They joined us a few minutes after and we had the best time together. We even decided to all wake up at 7 a.m. the next morning and head to our neighborhood's Farmers Market. Ever since that Wednesday, I spent every single day with these people doing the most fun things (like taking day trips to Etretat Normandy) and enjoying every day I had in Paris.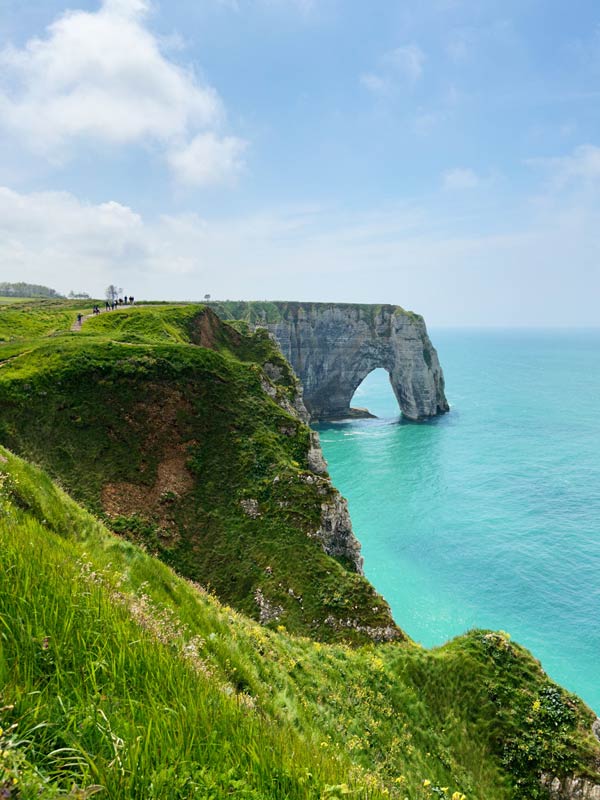 My Most Memorable Day Living in Paris
My favorite memory in Paris was the first Thursday. As I mentioned before, we all woke up at 7 a.m. and went to the neighborhood Farmers Market. There we found a wide range of croissants, fruits, vegetables, and even animal products. All the produce had very affordable prices ranging from €2-4. Before we left, we found someone selling different kinds of freshly made pastas, and there we decided we'd buy 2 kilos and have a little cooking night together.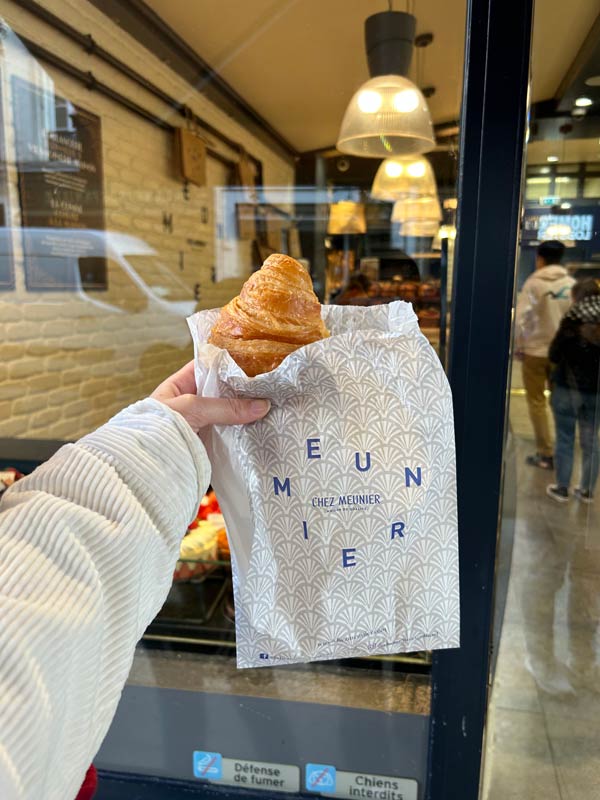 Then we headed to class afterwards, as five of us actually shared the same class. While we waited for the remaining three to finish their classes, we ate some crêpes from Le Tiki Rose, walked Champs-Élysées, and saw the Arc de Triomphe. We all lived in the same apartment building, so cooking night took place in one of our apartments. As we cooked and ate our pesto pasta with freshly made baguette tradition from our neighborhood boulangerie, we shared laughs and stories. At that moment, we decided to go see the 11 p.m. Eiffel Tower twinkling lights.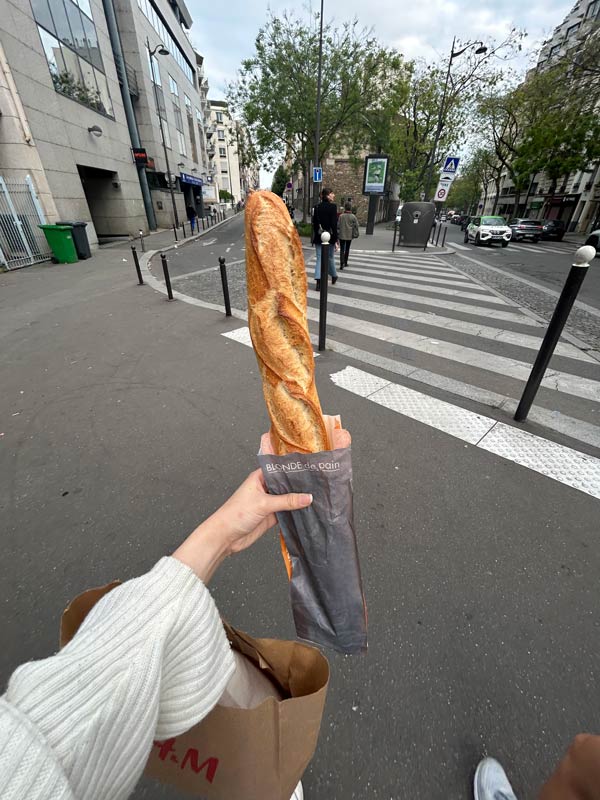 For context, it was 10 p.m. and the Eiffel Tower was a 50 minute metro ride from our apartment. And so, we rushed to do the dishes, grab our things, and made our way out of the apartment. We then saw that taking the bus would be a 30 minute ride, as opposed to the 50 minute metro ride, and the bus had strategically just pulled up so we ran to get inside. Yet we failed to check the direction it was going towards, and we actually got on the wrong bus and it took us farther away from our destination. We got off as soon as we realized and ran to the closest metro station. I remember feeling so nervous about not making it on time, as the lights would only twinkle at 11 p.m. for 5 minutes. Our stop came and I remember just sprinting off the metro and up the stairs, just following my friends ahead of us. We somehow made it with 10 seconds to catch our breaths before the tower lit up.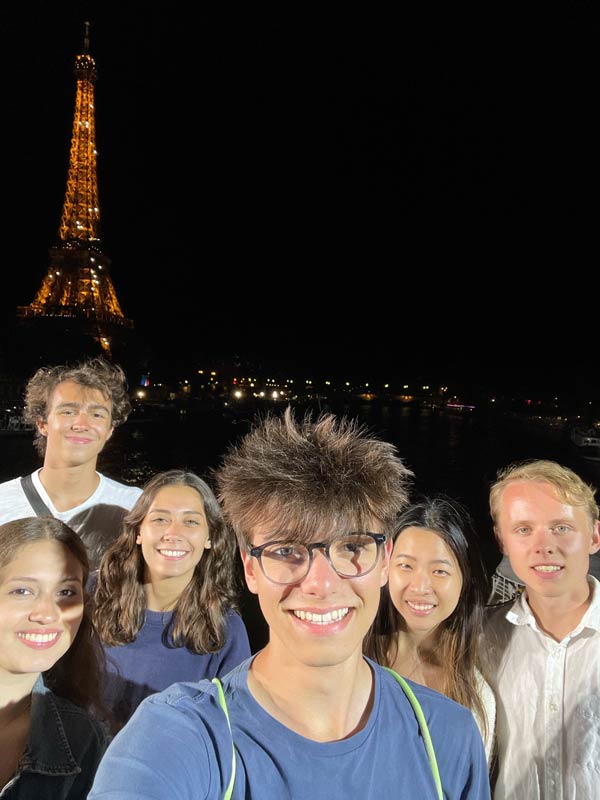 I remember the rush of adrenaline filling me and my friends up, and I remember turning around to look at them and just feeling so euphoric and happy that I got to experience such a spontaneous, yet beautifully wholesome night with people I learned to call my best friends for the remaining five weeks.
Michelle Chung is currently studying at the University of Michigan and studied abroad with CEA CAPA in Paris in Summer '23.
---
Read more about our CEA CAPA Content Creators.