A Long-Distance Love Story Blossoms While Studying Abroad in Spain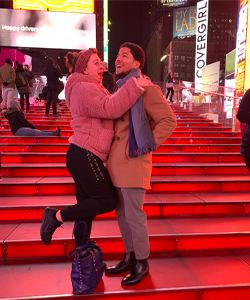 Study abroad destination:
Barcelona, Spain


Study abroad term and year:
Internship Program in Summer '17 and Onsite Ambassador program in Summer '18
U.S. institution and major:
Kean University and Communication/Public Relations with a minor in Women's Studies
Current position and your career journey:
My current position is a Cell Therapy 360 Site Account Specialist with Bristol Myers Squibb, a global biopharmaceutical company and currently going to school part-time for a master's in Interior Architecture and Design from the Academy of Art University.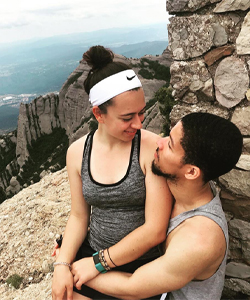 Your love story:
My name is Karime Diaz De Jesus and I am an American citizen in a long-distance relationship with Franklin De Jesus, who is a Spanish citizen, originally from the Dominican Republic. Our story of how we met is comparable to a movie such as the Lizzie McGuire Movie. It was an organic encounter and a happy surprise. Franklin and I met my first-time visiting Barcelona, Spain in the Summer of '17 towards the end of my study abroad program.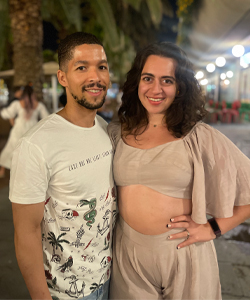 Barcelona is known for its local social events and great night life and my local friend, Mileydi, who I met at her café job at the time, invited me to a social dancing event. At first, I didn't want to go because it was late at night and I already was dressed in my pajamas, but a thought struck me that maybe I'll meet someone cool. And low and behold, I met Franklin that night and we danced the night way. It always amazes me how studying abroad and travelling opens doors of opportunities to make connections with people from all over the world.
We hit it off right away and we became inseparable. I was leaving back to the U.S. 10 days later and we spent every day together; dining out, sightseeing, and enjoying each other's company until the very last day. We kept in touch after that using Skype and other communication and social media channels such as WhatsApp.
I graduated in the Spring of '18 from Kean University and that summer, I had the amazing opportunity to go back to Barcelona, Spain as an Onsite Ambassador for CEA, helping students adjust to the Barcelona culture and promote the CEA Ambassador program to the onsite students. I had a blast in this role and got to meet and network with new people, visit new places in Spain like Valencia, and strengthen my relationship with Franklin.
Franklin then came to the U.S. for the first time to visit my town of Union, New Jersey in early 2019. I then went back to Spain that summer with my mom and then Franklin came back to New Jersey in Winter '19 and left early 2020, right before COVID-19 put a halt to all non-essential travel, which challenged our relationship. We went a whole year of not seeing each other in-person and that was tough on the both of us, but we never lost hope that travel would open back up soon. Many other long-distance couples were in similar situations, and we joined a support movement group on Facebook called Love Is Not Tourism and monitored to see any updates on travel and how couples were able to reunite after many months apart. On Jan. 1, 2021, we finally were able to reunite in Santo Domingo, Dominican Republic.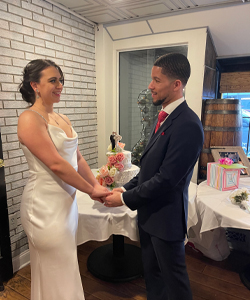 We have maintained our long-distance relationship for 5 years and counting, traveling back and forth to each other, and discovering new destinations together. We made a big step in our relationship and recently got married this past April '22. We are looking forward to a bright future together and more milestones and anniversaries to come.
How we make it work: We make it work by always communicating daily and updating each other on important life events. Being in a long-distance relationship is not for the faint of heart and takes a lot of communication, trust, and sacrifice, but we wouldn't have it any other way.
---
Taylor Coulson is the Copywriter and Content Coordinator.