Paris is an incredible city with so much to do, see, and eat. Anything I do in this city brings me so much joy, and I thought I'd share with you! Here are my Top 5 Favorites while
studying abroad in Paris
!
Visit Ladurée for the best Macarons
I can attest that they are the most expensive macaroons in the entire city but 10/10 they are the best! Ladurée is a luxury sweet shop and bakery that has been around for hundreds of years, so they KNOW what they are doing. There are 6 locations in Paris, where you can enjoy your sweets over tea or take them with you while you continue to shop until you drop. My favorite location is on the Champs Elysées.
Climb to the top of the Arc de Triomphe
Get the best view of the city when you climb to the top of the Arc de Triomphe! It's one of the most iconic monuments in the city that also serves as a place to remember the "unknown soldier" who passed away during the French Revolutionary and Napoleonic Wars. Tickets are only 12 euro, but if you're a student in Paris, it's free!
Triumphant Views
See the real deal Degas at Musée d'Orsay
You can spend all day at Musée d'Orsay, but the best floor is the fifth, where almost all of Degas ballerinas are located. Degas, Danse, Dessin exhibit is an all-in look at the relationship between Degas and comrade Paul Valéry, a writer and poet who published journals on Edgar Degas. You can see the "real deal" Small Dancer Age 14 sculpture, as well as The Ballet Class painting. Tickets are only 12 euro, but if you're under 18 years old, a student in Paris, or if you visit on the first Sunday of the month, it's free!
Degas
Attend Sunday Mass at the Notre Dame
It doesn't make a difference if you are religious or not. Visiting the Notre Dame Cathedral during mass is unlike any other experience you've had. The sound of the organs echoing while you embrace the beauty of the stained glass and actually get to see the Relic of the Crown of Thorns is truly incredible. Inside or outside, this Gothic Style Cathedral is mesmerizing, and who knows? You might even find Quasimodo!

Watch the Eiffel Tour Sparkle!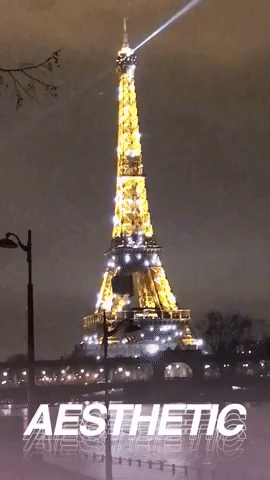 #1 on my list of top 5 things to do in Paris is obviously to watch the Eiffel Tour sparkle! For five whole minutes, every hour on the hour, you can gaze up at the 20,000 light bulbs used to make it sparkle. The best part is it never gets old to surrender to the awe of its beauty.
Emily D. is the Spring 2018 MOJO Blogger in Paris, France. She is currently a Freshman studying Communications at High Point University.
---
Emily Durant is the Spring 2018 CEA MOJO Blogger in Paris, France, and is currently studying at High Point University.