Beyond the Airport: CEA CAPA Arrival Process in Seville, Spain
Following a combination of layovers, traveling through time zones, and lacking restful sleep, I found myself functioning off eagerness and disbelief upon my arrival at San Pablo Airport (SVQ) in
Sevilla, Spain
. For months, I anticipated
studying abroad with CEA CAPA
, and now, after gathering all the documentation, tightly rolling my clothes into packing cubes, and making the trek from Seattle, WA, to Dallas, TX, to
Madrid, Spain
, and lastly, to Sevilla, Spain - I stood at the edge of the baggage claim. I was at the edge of beginning a new experience and establishing my new home.
CEA CAPA TRANSPORTATION TO MY NEIGHBORHOOD
Since I arrived at SVQ during the airport pickup window (between 8 a.m - 8 p.m.), I was grateful to take advantage of CEA CAPA's organized airport pickup and drop-off to my Casa de Sevilla housing assignment in Alameda de Hércules. After collecting my bag at baggage claim, I gathered with a group of CEA CAPA students in the arrivals area before being directed to board a large bus. While I was undoubtedly fatigued from traveling for over a day, I appreciated getting my first glimpse into the city from the bus as it drove students to their appropriate neighborhoods.


MEETING MY HOUSE MOM & SPEAKING SPANISH
As we approached my housing assignment, the bus pulled into a plaza called Alameda de Hércules. Little did I know at the time, but I later learned in one of my study abroad courses that Alameda de Hércules is the oldest park in Europe. Today, the cafes and bars that line the street are often lively as people enjoy each other's company.
When the bus stopped at Alameda de Hércules, CEA CAPA coordinated to have my house mom waiting to guide me back to the apartment, where she gave me a set of keys and instructed me on how to navigate the building properly. Bear in mind some of the streets are cobblestone and narrow, so the bus won't drop you off at your exact address. Believe it or not, the picture below is one of the medium-sized streets as some are only as wide as my arm span! Thankfully, I managed to pack light and only brought one rolling suitcase, my backpack, and a tote bag which helped make the walk simple. Less is more!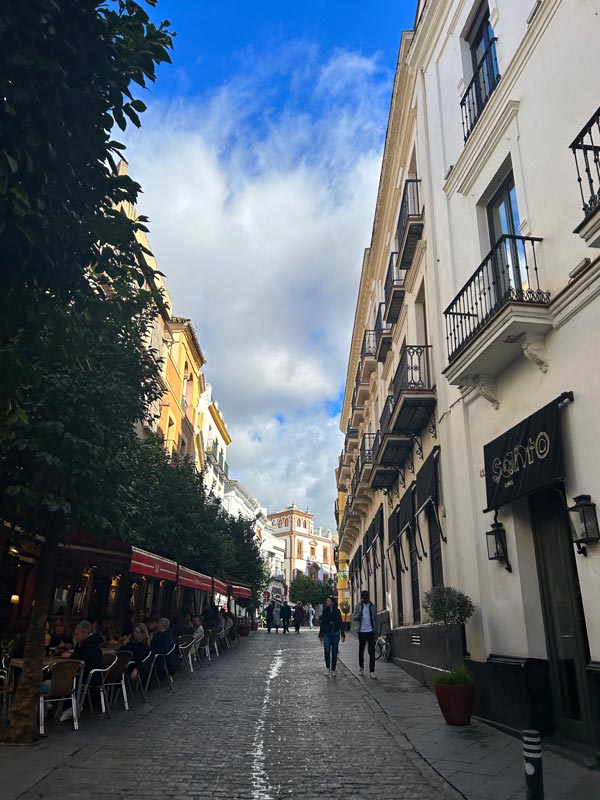 By the time I got to the house, it was late afternoon, so my house mom kindly cooked some lunch which was nice since it was a while since I last ate. She proceeded to ask me about any food preferences or dietary restrictions. I can confidently say our house mom's home-cooked meals are truly the best meal plan possible – fresh ingredients centered around a Mediterranean diet – delicious! While everything she made tasted incredible, my favorite meal from abroad was "pisto con huevo."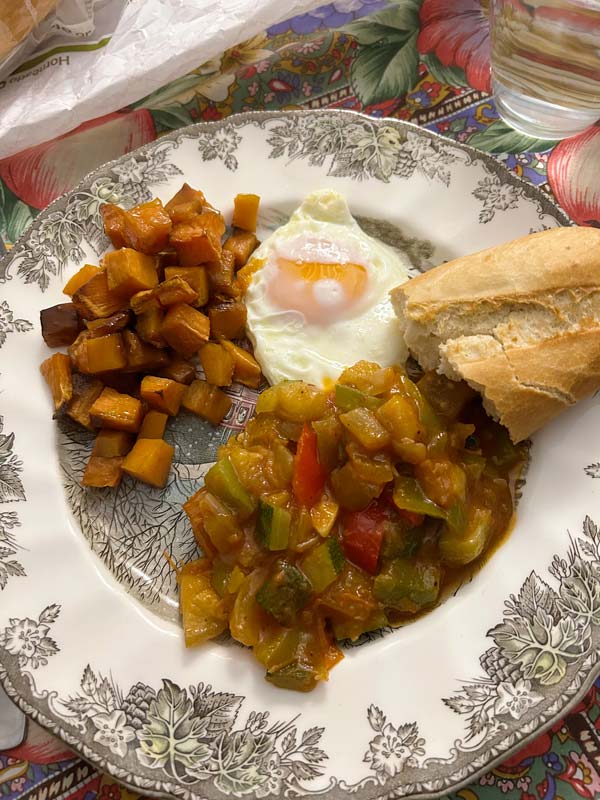 Pisto con huevo was one of our first meals upon arrival. Pisto is similar to ratatouille with various vegetables. We were served with eggs and sweet potatoes on the side! It's common to have a baguette with lunch and dinner too. The baguette gets passed around the table and ripped apart by each person to pair with the main meal.

Our exchanges were in Spanish, and since it was two years since my last Spanish class, it was a challenge for me to get immediately thrown back into it – especially without rest. It quickly became clear I needed to swallow my ego and ask for clarity or follow-up questions if I wanted to set myself up to improve my Spanish. I knew the language adjustment would continue to be challenging, however, I continued trying and leaned into the opportunities I had to engage with my house mom, other locals, and my roommates as we all tried to learn more about the language and culture of the people who call Sevilla home.


ARRIVAL ACTIVITIES: BIKE TOUR, CATHEDRAL TOUR, ORIENTATION SESSIONS & CÓRDOBA
CEA CAPA organized many orientation activities upon the first days of our arrival, including a bike tour throughout the city. This provided a first-hand experience of how accessible Sevilla is for either walkers or bikers with well-developed bike lanes. We also participated in a guided tour of the Catedral de Sevilla, which is a focal point of the city.



CEA CAPA provided students with a comprehensive schedule of sessions concerning academic expectations and cultural adjustment tips, in addition to other program orientation sessions before courses started. It was lovely to take a day trip through some of the countryside to Córdoba on the first Saturday in Spain, where we took a tour of the Mezquita-Cathedral de Córdoba. We also explored the town for a couple of hours, ate lunch, and even walked the grounds of the Alcázar de los Reyes Cristianos before reconvening with the group to take the bus provided by CEA CAPA back to Sevilla.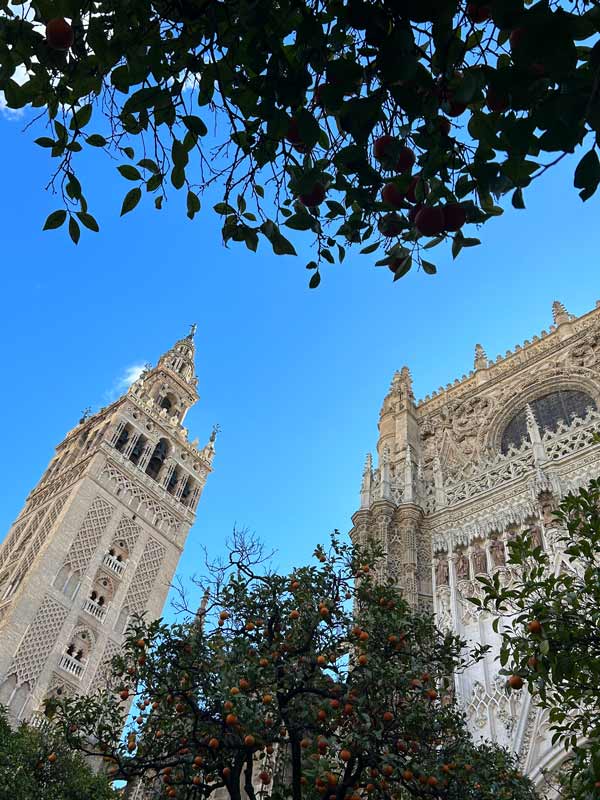 TIME FOR MYSELF
Before leaving home, I vowed to journal every day during my semester abroad with an internal commitment to remember every moment. Honest disclosure: I failed to do so.
During my first week in Sevilla, I kept busy and adjusted to many changes. Being surrounded by the Spanish language, adjusting to new schedules, participating in arrival activities, and meeting so many new people was incredibly exciting yet, simultaneously draining. As much as I wanted to capture everything, I recognized my body was asking for rest by the end of each day. As a quick fix, I put notes in a bulleted list on my phone, and then once I had some more time for myself, I referenced my notes before journaling. Once I was better acclimated to a few days in, I intentionally wrote while sitting along the Rio Guadalquivir - only about a 20-minute walk from my home or the CEA CAPA Seville Center. The river has a bright atmosphere with chatter, street music, and sunshine.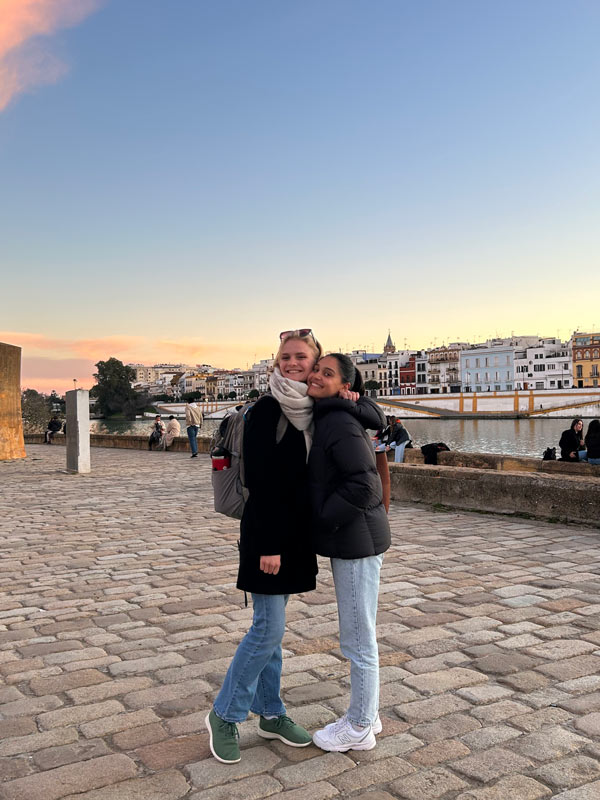 I reflected on my robust arrival process during the initial days of my study abroad program and realized Sevilla became more of a home to me through new routines, culture, and people I surrounded myself with.
---
Sarah Everett is the Content Creator - Blogger.