Benefits of a Career in International Education - CEA CAPA Staff's Memories from Abroad
Welcome to Part 3 of International Education Week (IEW) and we're taking a trip down memory lane. CEA CAPA is celebrating by highlighting the benefits of working in education abroad in this 3-part blog series. In Part 1, we asked our colleagues what inspired them to pursue study abroad careers. Colleagues shared their advice they'd share with students interested in international education in Part 2. Now, we're asking about the most memorable part of their study or intern abroad experience. We hope our colleagues' memories from abroad inspire the next generation of students interested in international education.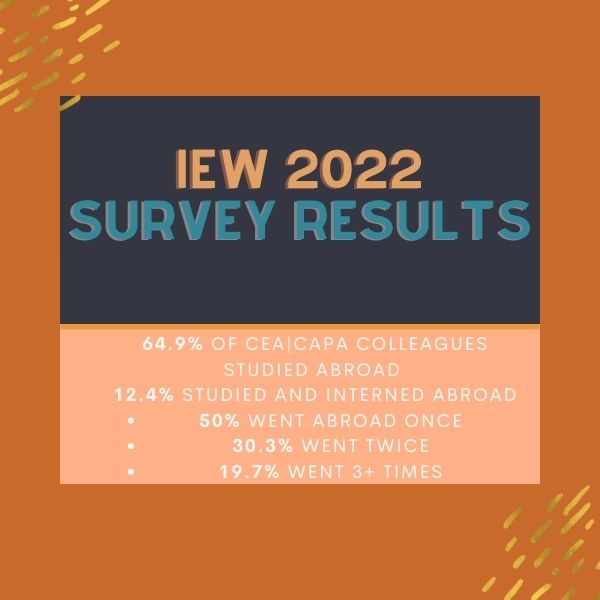 We asked: Did you study or intern abroad? What was the most memorable part of your study abroad experience? CEA CAPA answered...
My Global City events! The events provided me with such a unique way of discovering every nook and cranny of the city. My roommates and I taped a make-shift calendar to the wall so we knew when all the events were during our semester so that we wouldn't miss out on any!
I volunteered with a program called Amigos de las Americas in Ecuador and interned abroad in Argentina with IE3 Global Internships. The most memorable and impactful part of each experience was living with a host family.
I did not! I am one of the few people at CEA CAPA that did not study abroad. I get to share the flip side of the story with students; you cannot miss out! I certainly regret not having an abroad experience in college and think about it often. I did visit my two girlfriends in Costa Rica the year I graduated college. They did an internship there with Veritas University, so I got to tour the campus before starting with CEA CAPA!
I studied abroad in New Zealand! I went abroad from June '18 to December '18 with AIFS. My fondest memory was visiting the Lord of the Rings Hobbiton Movie Set and turning into a little kid as I was just in awe of the countryside which had been turned into the wonderful world of Tolkien.
I did not study abroad (thanks COVID-19!), but after graduation, I was able to teach English abroad through the Fulbright U.S. Student Program! Through Fulbright Taiwan, I taught English around Changhua County, Taiwan from 2021-2022. It was the experience of a lifetime! The most memorable part would have to be when my students surprised me with a lesson about Lunar New Year that they created for me, using terms and words we've learned in the classroom. They also taught me how to write traditional spring couplets that are supposed to be hung around our front doors during the Lunar New Year holiday and we ate special treats. It was an act of cultural exchange that will stay with me forever.
I did a direct exchange program through my university in Spring '22 and studied abroad for a semester in Ecuador. One of the most memorable parts of all my time there was a trip planned with a local friend to the Cotopaxi Volcano National Park and Quilotoa Volcanic crater. Not only was it gorgeous to go horseback riding with such amazing views and watch the sunrise before hiking into the collapsed volcano to go kayaking on the lake, but it was so wonderful to bond with local friends while traveling and trying new foods! There is nothing like experiencing the beauty and uniqueness of a different country and culture firsthand.
I studied and interned through CAPA in London during Fall '16. Because my program took place right after the initial Brexit referendum vote, and during the 2016 U.S. presidential election, it was an especially fascinating time to study in London and to be a U.S. citizen abroad. Studying in the U.K. through CAPA during that time ignited my interest in global politics, government, the news media, and civic engagement, and helped me feel more like an engaged citizen of the world. It also led me to pursue a career in international education, and I feel grateful I'm now part of an organization that helps students engage in similarly life-changing experiences!
I studied abroad in India on a Buddhist studies program run through Antioch College. The feeling of being overwhelmed and out of my comfort zone was the best part. You learn to adapt and build resiliency quickly when you have no personal space, are constantly sick, and living in a location where you don't speak the language.
I performed in an Irish play called 'Translations' by Brian Friel. It's about British colonial activity in Ireland. As a youth company, we toured venues on the East Coast of the U.S., and it was eye-opening - so many people of Irish heritage showed up. It gave us - as young Brits - a very different take on U.K. history! It was difficult, but mind-expanding. We were truly outside our narrative!
As a college student I always dreamed of studying abroad but didn't have the financial means, and to a bigger extent I also didn't have enough information or resources at my disposal. In fact, results from a November '22 survey show that 42.6% of CEA CAPA respondents also identified as a student with financial need. Therefore, I didn't study or intern abroad, but I have lived in two countries different than my own in the last six years. The most memorable part of LIVING abroad, in addition to the strong and beautiful relationships I've forged, has been getting to recognize and develop my own strength, emotional intelligence, resilience, adaptability, cultural sensitivity, and empathy.
Interested in partnering with CEA CAPA on a new destination or program? Reach out to your CEA CAPA Institutional Regional Director today.
---
Explore our CEA Staff Directory.