Commemorating the Legacy and Contributions of Women in Westminster, London
Before getting to London, I was always interested in its history. One of the first areas of the city I wanted to visit was Westminster, as there are many memorials there and I figured it was an amazing place to learn something new while studying abroad with CEA CAPA.
Upon arrival, I felt overwhelmed by the amount of monuments and memorials around the area and all the noise and the excessive amount of people. At first it can be a lot to take in at once, but once you start walking around the rest doesn't bother you anymore.
As I walked around and saw that most of the memorials and monuments were dedicated to men it made me feel like history often forgets the contributions of women. I feel it's important to celebrate the monuments of women that London does have and learn about these women's accomplishments to raise awareness of the lack of memorials dedicated to women and to push for the increase of these memorials. This inspired me to investigate the history of the current memorials dedicated to women and how these women impacted London and its history.
Edith Cavell
Edith was a nurse during WWI who helped smuggle soldiers out of Belgium when it was under German occupation. She was later caught and sentenced to death by the Germans, but her legacy remains due to her risking her life to save hundreds of soldiers. Her memorial is also powerful as it has a quote from her imprinted on it which reads, "Patriotism is not enough/I must have no hatred or/bitterness for anyone."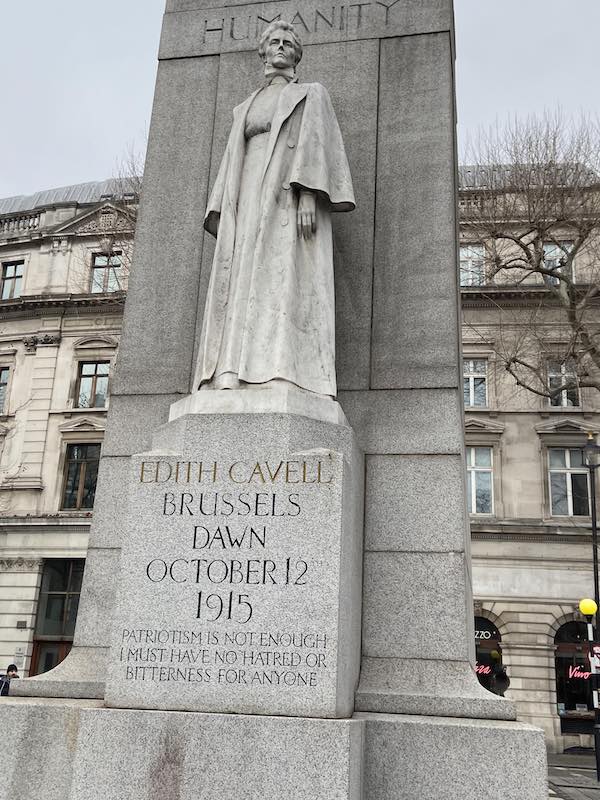 Cavell's memorial showcases her resilience against the hate that caused the war and her determination to have no hatred and help others, which is truly admirable. Cavell is important to London's history because her kindness and selflessness saved the lives of hundreds of soldiers, which is portrayed in the details of her memorial. She's also known for serving as matron for the first school of nursing in Brussels, Belgium, and provided services to train nurses.
Florence Nightingale
Florence Nightingale's memorial showcases her accomplishments in nursing. Nightingale played a significant role in the history of the profession and she's considered the founder of modern nursing. The bottom part of her memorial gives the spectator a look at the hospital scene of which she was a part. The memorial is powerful as she stands tall and looks proud of her accomplishments.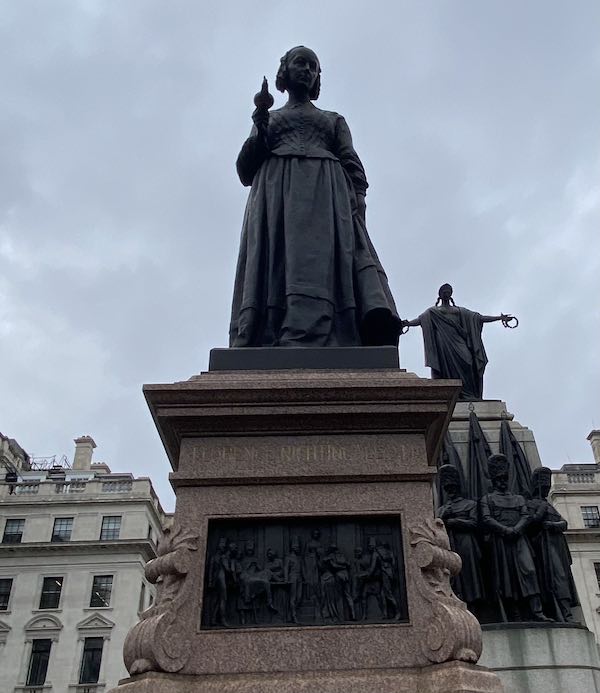 Her impact on London's history is of great importance as she made innovative changes to the healthcare system that are used to this day. She highlighted the importance of the cleanliness of hospitals to stop bacteria from spreading; this wasn't a common practice before. She also focused on the design of the rooms to stop the spread of bacteria and the importance of a healthy diet in order to better help patients recover.
Millicent Garrett Fawcett
Millicent Garrett Fawcett was a leader of the women's suffrage movement. This movement was determined to fight for the right of women to vote in a peaceful manner. Fawcett's memorial sends a powerful message to those who go see it as it's the only memorial dedicated to a woman in Parliament Square. It was created in 2018, decades after the movement and her death.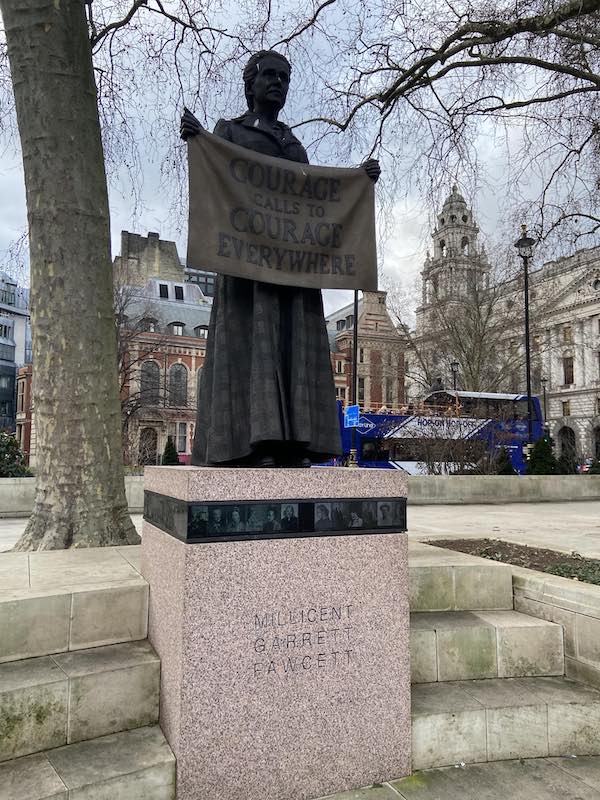 This memorial is hard to miss when you visit the Square as it's placed in the center, and she's holding a banner which catches people's attention. The memorial also includes pictures of members of the women's suffrage movement who also made an impact through their accomplishments in the movement. This statue is also the only one designed by a woman in Parliament Square, which makes it even more significant in the showcase of women's work in London. Fawcett is important to London's history as her determination and leadership of the National Union of Women's Suffrage Societies (NUWSS) was key in the campaign for women's voting rights. Without her, the movement would likely not have been as successful as it was, and women in the UK might not have gained the right to vote as early as they did.
Women of World War II
The "Monument to the Women of World War II" memorial, located in the center of the road in Whitehall, celebrates those women who had to step up to help their country during the war. This memorial is special in that it commemorates a group of people instead of an individual. It also holds a lot of visual power and is hard to miss due to its location, large size, and bronze material.
I found this memorial breathtaking, as it shows the spectator all the roles that women had to fill in when men had to leave to go to war. The different uniforms are an example of some of the roles they had. Even though women's work was vital during the war, this memorial was just created in 2005, 60 years after the war ended.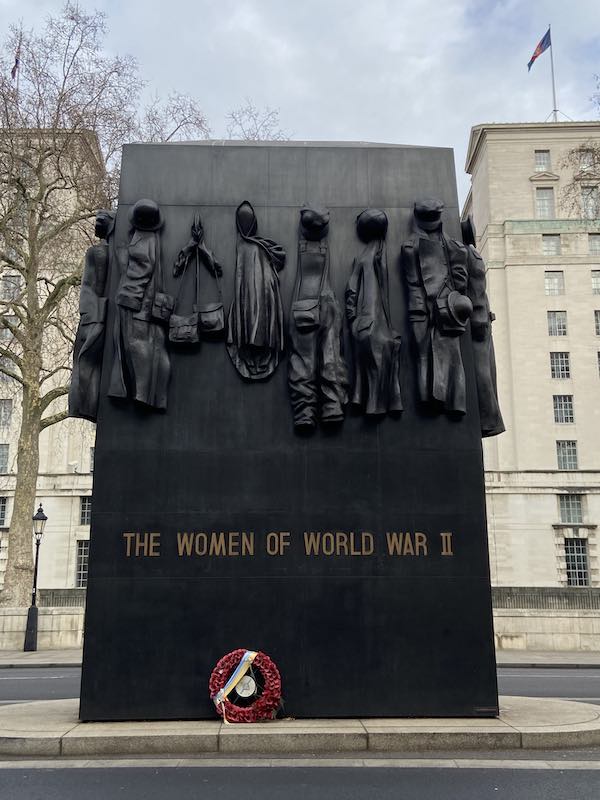 Even though the memorial was built decades after the war ended, I'm glad the women who did so much for their country got the recognition they completely deserve. They impacted history by their selflessness to help their country at a time in which they were needed. Without the women, the UK wouldn't have been successful in WWII.
Overall, the experience of walking around Westminster and appreciating all the hard work these women did during times when women faced much discrimination taught me to appreciate how women's rights have progressed and how women continue to stand up for equal rights and recognition. It also taught me that the city has slowly progressed into being inclusive of women's rights, as many of these monuments are fairly new—London is working in recognizing that women's contributions are just as important as men's. It let me see London as a city that in many ways works to accept diversity and celebrate differences.

Mariela Jacinto is a CEA CAPA alum and Diversity Advocates Scholar for Spring '23. A psychology major at Arizona State University, she studied abroad in London.
---
Read more about our CEA CAPA Content Creators.