Using My Spanish Language Skills in Spain
The reason that I chose Barcelona as the destination that I wanted to spend two months in was because of the Spanish language. In fact, the only reason that I even wanted to study abroad with CEA CAPA at all was because the years of Spanish classes that I took that showed me the music, dance, food, and of course the language that make up the Spanish culture. I started studying the language in eighth grade and took the class through AP Spanish during my senior year of high school, for a total of five years. I chose not to minor in it because I thought that chemical engineering with a business focus would keep me busy enough. However, I maintained my level of Spanish through conversations with my friend's family from Venezuela and listening to Latin music. Now that I spent over a month studying abroad in Spain, I wanted to share my experience with being immersed in my non-native language and some tips for what to expect.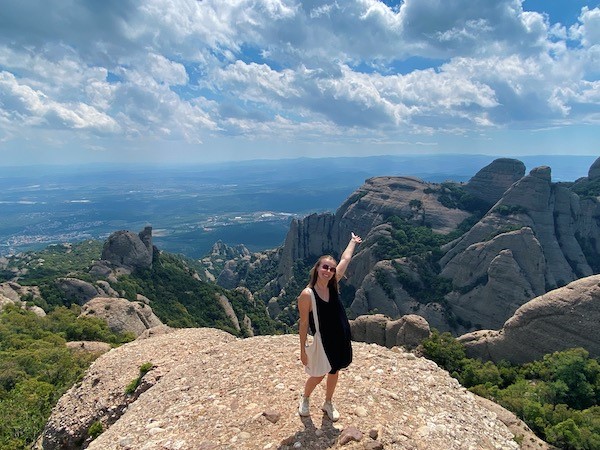 Do you need to know Spanish?
One of the biggest questions to find the answer before going to study abroad, especially for an extended period of time, is: do you need to speak the native language to survive daily life experiences there? Now, I cannot speak for everywhere, but here in Barcelona, the short answer is no. The majority of other students who are with me on this study abroad program don't speak Spanish, so they do their internship abroad work in English.
In fact, since Barcelona is in Catalonia (an autonomous region of Spain) most people speak Catalan on top of Spanish. I don't speak any Catalan, but when someone speaks to me in Catalan and I respond in Spanish they just switch to Spanish.
Parts of Barcelona are very touristy so it's common that many people speak English in stores, so you'll likely do everything you want without experiencing too much of a language barrier. However, having experience with the language does give the added benefit of feeling more comfortable communicating with locals and feeling more immersed in the culture. Since I'm proficient in Spanish, my internship abroad is mostly in Spanish (at my request) so that I can practice more, which was one of my favorite parts of my time abroad.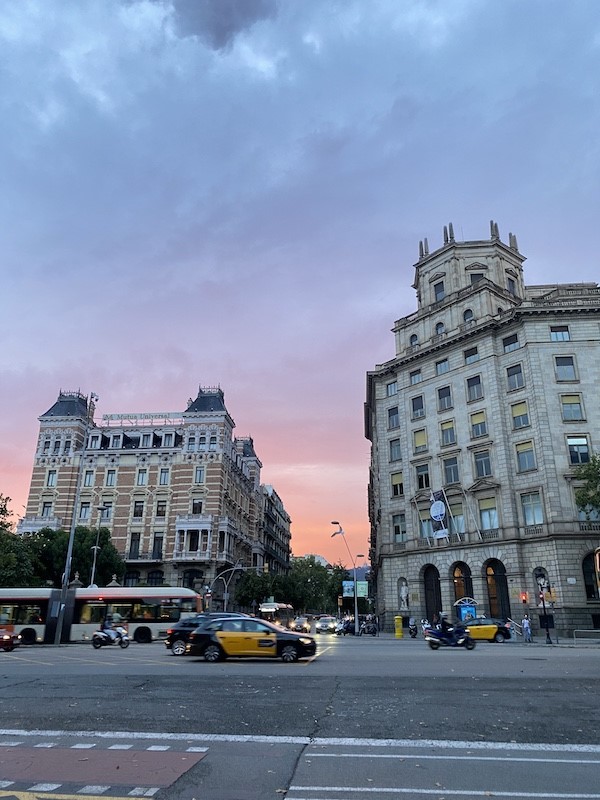 Helpful phrases to know
If you never took a Spanish class, there are still common phrases that'll help you in interactions that you may have in Spain. Of course, there are the basic phrases like por favor (please), gracias (thank you), donde esta… (where is…), and hola/chao (hello/goodbye).
There are some other phrases that I learned that come in handy, especially when ordering food. For example, if you're trying to order coffee like we have in the U.S., it's important to know that a latte will either be called a café latte or a café con leche. A normal drip cup of coffee can be more difficult to find since espresso is more typical here; however, you can order an americano which will be the closest thing to drip coffee.
When it comes to ordering other food, you can typically get away with pointing at whatever pastry or menu item you want. I recommend trying patatas bravas (potatoes with a spicy sauce) and ensalada rusa (a version of potato salad) because those are some of my go-to's when I go out to eat here.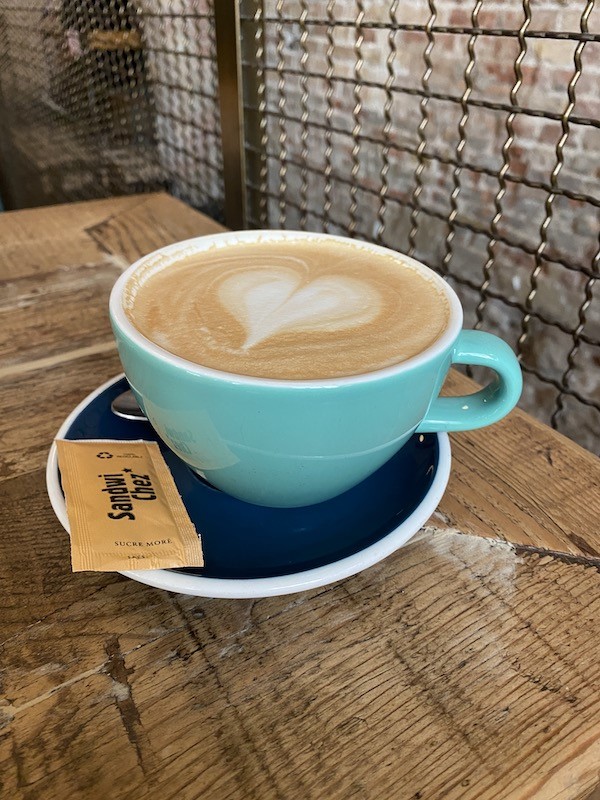 Differences from Spanish classes
Now for those of you who have taken a Spanish class before, there are a few things you'll find a little bit different when it comes to speaking Spanish when you arrive in Barcelona. The main difference is actually using your Spanish in a conversational setting. I luckily practiced a lot conversationally with my native-Spanish-speaking friend before arriving here, however, other students on this trip who just study the language in school noticed that the application of what they learned in class took a while to adjust to.
I was initially worried about the Spanish accent in comparison to the Venezuelan accent I am used to hearing, but since many Spanish classes focus on Spain, I was surprised at how familiar the accent sounded.
One thing that I wasn't surprised about, however, was the use of the vosotros form. In our Spanish classes we are taught that to say "you all" we use ustedes. However, in Spain they have a separate form called the vosotros form, which has entirely different conjugations. I noticed this a lot at my internship abroad, but haven't came across it much when speaking one-on-one with people. My coworkers recommended watching "Money Heist" because that was filmed in Madrid, so it's great practice for the way that people speak here.
How I practice here
I'll say that in the almost two months that I've been here, my Spanish skills grew so much. I think that regardless of your beginning level of the language upon arrival, you'll find that by the time you leave you'll be surprised with how your language skills have increased. It might sound like common sense, but to improve my language skills, I make sure that I push myself to speak the language with native speakers. No matter how embarrassed I might be about incorrect pronunciation or a limited vocabulary, I know that the only way to get better isn't just by listening to others, but by speaking myself. So at my Barcelona internship abroad, I try to speak only in Spanish and I even embrace going to new activities with my coworkers after work.
I also attended a Festa Mayor in Sant Cugat; is a local street festival traditional to Catalonia in a town about 40 minutes by train outside of Barcelona. The parade was filled with different groups dancing traditional dances and the whole town came to celebrate the community. My supervisor told me it was like their version of a Fourth of July parade, only instead of celebrating independence, they're celebrating the close-knit community and instilling Catalonian culture in the youth. By being open to participate in activities like this, not only have I improved my language abilities, but I also witnessed a unique part of the culture that I wouldn't see otherwise.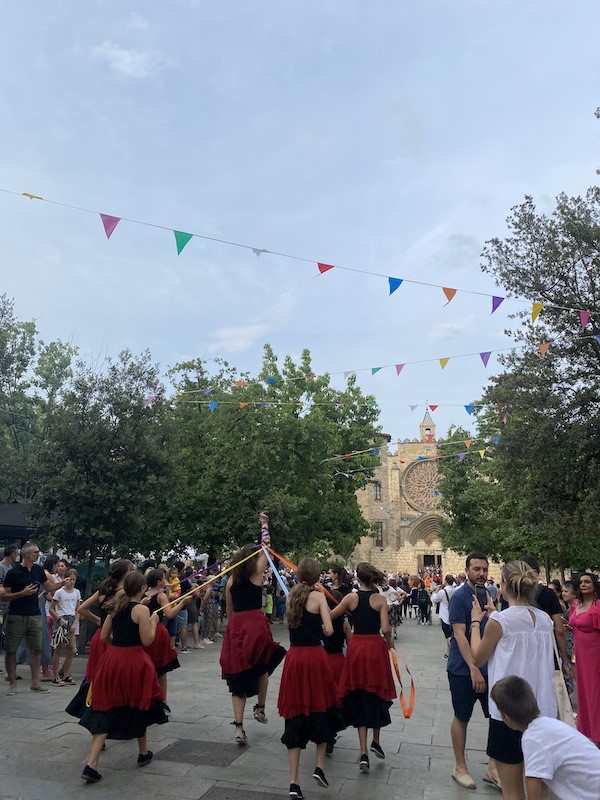 Abby Spangenberg is an official blogger for Summer '23, sharing her story in frequent posts on our study abroad blog. A Chemical Engineering major at Ohio State University, she is studying and interning abroad in Barcelona this semester. All views expressed are her own and may or may not reflect the experiences of other students.
---
Abby Spangenberg is the Content Creator - Blogger.