Alumni Spotlight: Annika Karlstrom - Amsterdam
Annika Karlstrom is a fourth-year college student studying Computer Science Engineering at Michigan State University. She is an Amazon AWS intern in Seattle, WA. As a first-generation college student, she dreamed of studying abroad and kick-starting college with a life changing experience. But the reality Annika braved was lockdown amidst the COVID-19 pandemic. COVID-19 was hard for everyone, and it really hindered her college career and experience. By the time life started to somewhat return to normal, Annika was already a third-year student and felt that studying abroad and fulfilling that long awaited dream would finally set her life back into motion. Her study abroad program with CEA CAPA did exactly that. Annika said, "It made me feel like myself again and connected the dots of my social college experience I missed out on during the pandemic. I've made so many new friends and visited various incredible places." Thanks to studying abroad in Amsterdam in Fall '22, Annika has a new appreciation for the world and herself. She said, "It made me feel like I've started growing into the person I always dreamed I'd be."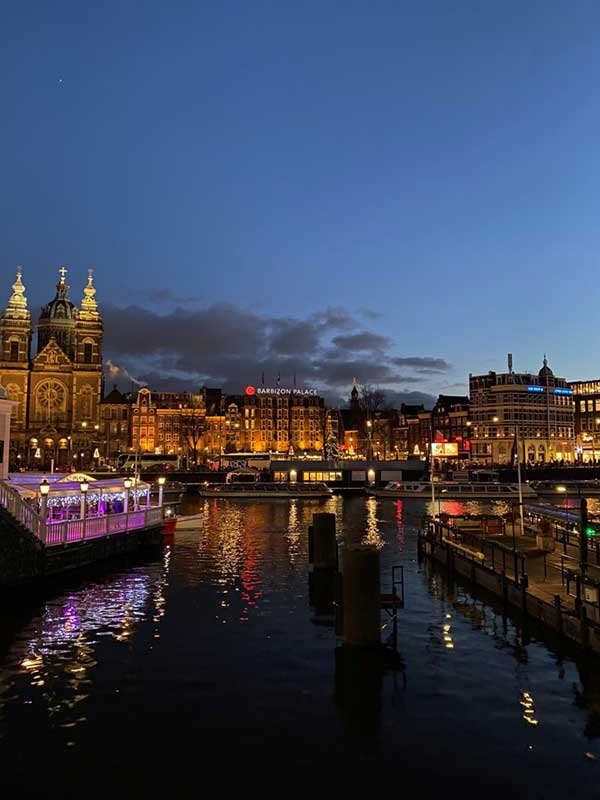 Why did you want to study abroad? What inspired you to study abroad?
It sounds cliche but I chose to study abroad in Amsterdam to find myself and experience the world. I always wanted to study abroad, learn in another country, and live in another culture. Traveling the world is a goal of mine, but so is learning about it. I was inspired to study abroad after covid to get back out into the world and become a part of it.

What led you to choose your CEA CAPA program as your study abroad destination, and why was it the right fit for you?
Amsterdam wasn't where I originally thought I'd study abroad, but I'm so happy that I went there. I was skeptical at first because it wasn't one of the major cities that I always dreamed of visiting, And the more I learned about the Netherlands' colorful capital, the more excited I became. Before moving to Amsterdam, I had no idea how much I'd fall in love with it and ultimately consider it my second home. The people were kind, and the weather was calm. I enjoyed the fall semester in one of the most picturesque and iconic places in Europe. Amsterdam was amazing for many reasons, but mostly because it's the perfect combination of casual and cozy. I truly felt like I fit in there.

What were some of the most formative experiences you had or classes you took while abroad?
The best and most formative experiences I had abroad were with my friends I made while studying there. I never imagined I'd make friends that I connected so well with right away. We were always out in the city doing things together. Going to study and get coffee, shopping, lively nightlife, going to the bar for a world cup game, traveling, biking, and so much more. My most memorable moments in Amsterdam were with my friends. Having friends that wanted to go out with me and explore our city had the biggest impact on my time abroad and helped me get comfortable again after being in a COVID-19 college experience for so long. I wouldn't have had half the incredible experiences and support without meeting people that would become my good friends there.

What was the most valuable thing you learned or can remember from your program?
The most valuable thing I learned from my program was how to be on my own. Back in the U.S., I went to school an hour away from my childhood home. I was still surrounded by friends and family I've known forever. But half a world away in Amsterdam, I went into a program knowing no one. While abroad I made the most amazing friends and met wonderful people that made my experience unforgettable, but I was living on my own. I had to learn how to be independent and alone at times. It wasn't lonely as one would imagine, in fact it's the opposite. I learned to be okay with being on my own and being comfortable with just myself as company. It made me realize that my experience was a taste of life after college, helping to teach me to be my own person and how to transition into a real adult.

How did your study abroad experience impact your initial job search (resume, cover letter, interviews)? What hard and soft skills from studying abroad helped you land your job?
Studying abroad gave me the confidence to pursue internships and jobs that I didn't have the courage to apply for before. As a computer science engineer, sometimes I don't always feel as confident in myself even though I know deep down I am qualified to reach my career goals. Before studying abroad, I feared rejection from companies and not living up to the standard I heard throughout my time at my home institution. But after taking the leap to live alone on the other side of the world, my confidence increased in myself professionally and personally. The fear of rejection didn't seem as scary, especially after starting a new life in a new and foreign city. Studying abroad in Amsterdam gave me a new sense of self and confidence that I now carry with me in all aspects of my life.
Why do you think studying abroad is beneficial for students preparing to enter the workforce? Do you have any advice on how students can leverage an international experience in their job search and career?
Studying abroad helps you learn about the world but also yourself. You find yourself in so many different situations while being abroad – some good, some not as good, but all of them become learning experiences. You learn how to communicate cross-culturally with others, and how to act in different situations that you can't experience at home. I learned to be more confident in myself but also how to handle the anxiety that comes with the job search. While interviewing for my internship, I felt that my conversational skills improved since being abroad and my interviewer also took notice of my study abroad experience. I believe it helped me stand out compared to other candidates because it meant I was putting myself out into the world and becoming a well-rounded individual that would better fit with a global company.
Do you have suggestions or resources you can point students to if they are interested in a similar career?
Don't be scared to apply. Sometimes applying for the most famous companies in your industry can be intimidating, but you never know what will happen. I didn't think I'd end up working for Amazon, but I went out on a limb, applied, and made it through round after round of the interview process until I got the job. My advice is don't limit yourself and your opportunities, put yourself out there and you just might find what you're looking for.

What would you say to students who are on the fence about studying or interning abroad?
Go! You will not regret this experience. Going abroad was the best thing that happened to me and changed my life for the better. I am a completely different person now compared to who I was before going on this journey. I am more confident in myself and my career going forward. Being away from home has changed the way I appreciate the world and the people around me. By being so far from the familiar, I've learned to overcome the curve balls the world might toss my way and because of that, my life has become more enjoyable. Being in another country made me learn to take it all in, the big and the small moments, cherish every day, and make the most of it.
What was your favorite food from your host city? Where was your favorite spot to spend time alone or just your overall favorite place in the city?
My favorite food was probably the bitterballen. Not only because it was delicious and savory, but also because it was a favorite among my friends. The first week in the Netherlands, my friends and I would only order bitterballen when we'd eat out and now, we always laugh when we order it. It was both yummy and memorable. In the city I had two favorite spots. My first fave was Negen Straatjes, a beautiful neighborhood just a canal west of the city center. It has all the iconic and cozy features of Amsterdam without the crowds that hang round the old town and city center. This area has the cutest shops, best food, and picturesque places in the city. My second favorite area in Amsterdam was De Pijp. The De Pijp neighborhood is just southeast of the famous Rijksmuseum and my go-to spot to spend the day studying. This area of the city is also home to Albert Cuypmarkt, where you can find yummy food and fun items, including great gifts and souvenirs.
---
Read more about our CEA Content Creators.