5 High-Impact Practices to Enhance Your Time Studying Abroad

At my home institution we call it High-Impact Practices (HIPs). HIPs are types of active learning opportunities that promote engagement through doing. Studying abroad, participating in an internship, volunteering with the local community, or taking an intensive writing course are all examples of high-impact practices. I constantly promote HIPs because I know firsthand how beneficial these experiences are for college students to enhance our education, strengthen our skillset, and prepare us for employment. Throughout my undergraduate experience, I completed five internships, been a member of TRiO Student Support Services (where I held multiple leadership positions), gave back to the community through volunteering and philanthropy, wrote a paper published in Alpenglow, an undergraduate research journal, and obviously, am currently studying abroad in Barcelona. It is not in my classes where I have learned the most, but through engaging in these HIPs with real life experience.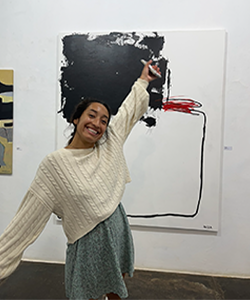 The purpose of that list above is not to impress you with what I've done, but to inspire you to take part in some of the many HIPs that CEA has to offer, specifically in Barcelona. Not only is it something to add to your résumé, but it is a way to make friends, connect with your culture, and enhance your overall academic and personal experience abroad.
Free "Field Trips"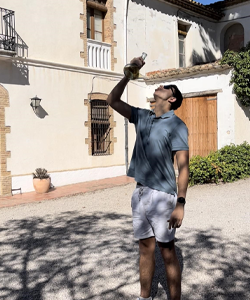 At CEA Barcelona, the opportunities to actively learn outside the classroom are endless. My favorite of all the HIPs is the Academic Integrated Cultural Activities Programs (AICAP). Completely free of charge (because we've already paid for it in the program cost), all students have the opportunity to sign up for events and excursions that CEA arranges for us. Make sure you're prepared to give your refundable deposit on the first day, as spots are limited for the excursions. There are three different types of AICAPs:
Barcelona Hands On

Exploring Catalonia

Spain in Depth
In the first category, there are 11 events. These are all around two hours in length and consist of a guided tour about a specific topic. With Exploring Catalonia there are only two events, but both are a short drive away since they are day trips. Tours are provided for these as well, and free time in the area is also given. Then there are the two overnight trips, which are significantly farther, either by bus or train. We slept in the Pyrenees overnight, and in Madrid for two!
AICAPs are the perfect way to learn about the culture of Barcelona, Catalonia, and Spain. My favorites are the Pyrenees overnight trip, the graffiti tour, and the tapas cooking workshop, which I had the option of doing in Spanish.
Breaking the Language Barrier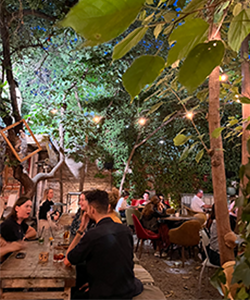 Although we get to explore local spots during all of these excursions, English controls conversations, as CEA is an American program. As a way for students to practice their Spanish language, CEA has created Café Olé. This informal biweekly coffee chat is led by a CEA employee. Each meeting we explore a new café or restaurant, y practicamos nuestro español. We can talk about whatever our hearts desire, but there is always a topic, prompts, questions, or even games to guide our conversations!
Café Olé is in a group setting, open to all CEA students. However, if you're looking to practice Spanish one-on-one, CEA has a language exchange program that pairs you with an English language learner of an equivalent level. The hours that you two meet are flexible. My friend is meeting with her partner four hours per week! What dedication (the normal is only one hour, which can already be a lot when you're learning a language). My language partner and I meet for 1 hour every week at a different restaurant. Our conversations range from books we've read to our home life, and everything in between. There is no better way to learn Castilian Spanish, slang and all, than to speak with a local. Keep a journal of the new words you learn!
Résumé Enhancers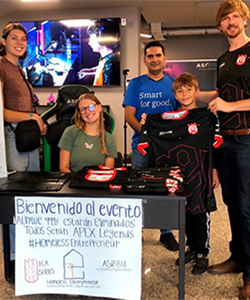 These HIPs are a little different than what I explained at the beginning. Two traditional ones that CEA offers are:
the internship program
the volunteering program
CEA Barcelona is unique as it is one of the few locations that offers the possibility of doing an internship. You get to select how many credits you want to take it for, which determines the amount of hours you complete during the semester. I chose to do six credits and am taking two classes. Most people, though, do theirs for three credits and then take three classes. Throughout the process of getting an internship, you feel well-supported by the CEA Internship Team. There is an initial interview to gauge your professional interests, a few emails back and forth, and a final interview with your company. Yes, you heard that right, you don't have to find your internship yourself! If you're in the internship program, CEA Internship Coaches hand select one that is best for you, your professional experience, and what you're looking for. For me, CEA actually created a position that I was interested in… which is writing this blog. Kidding, sort of. My career aspirations are to work in Student Affairs Administration, and my internship with CEA's Marketing Team pushes me towards my goals and strengthens the skills I need to achieve them. Want to hear more about internships? Check out my other blog!
The last HIP that I'll discuss today is volunteering. You can volunteer in multiple ways, but there are two avenues that CEA helps with. The first is the service learning class. Obviously there is much more to the class, but the gist is that you volunteer with an outside organization, as part of the class. The second way is just "normal" volunteering. However, for both, you do not have to search for your own placement; CEA contacts organizations and arranges everything on your behalf. To get involved in regular volunteering, attend the info session that is offered the first or second week of classes! Volunteering is beyond rewarding, the best way to be involved in your host culture, and a chance to build your Spanish vocabulary in a new setting.
Your time abroad is short. HIPs help you make the most of it. You won't remember the TikToks you scrolled through, but you will long for the moments you spent helping a child learn English, watching the sunrise in the mountains, or interacting with a new Spanish friend. These opportunities are basically handed to you and the benefits are exponential. Plus, you already paid for the program, so do everything it has to offer!
What high-impact practices do you want to see at your CEA location?
---
Eva Vazquez is the Fall 2022 CEA Content Creator in Barcelona, Spain, and is currently studying at Binghamton University.