We're excited to introduce our group of Fall 2021 Mobile Journalists (MOJOs)! As these CEA Bloggers, Photographers and Videographers embark on their journeys abroad this semester, be sure to follow their content on the CEA Blog, as well as on CEA's social media channels (Instagram, LinkedIn, Facebook, Twitter).
Paris, France
Sophia Adams, MOJO Lite

University of California-Los Angeles
I chose to
study abroad
to improve my level of French and immerse myself in a culture that I love and feel connected to. I lived in Paris when I was around 5 years old, but I don't remember much of my time there. I'm excited to go back and make new memories! I am looking forward to meeting and befriending as many French people as possible - and hopefully speaking French with them too!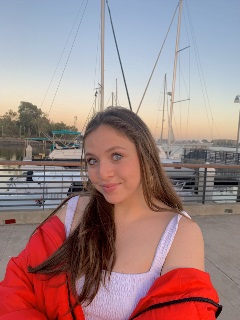 Barcelona, Spain
Roxy Moss, MOJO Photographer


Cal Poly - San Luis Obispo
I've been very fortunate to grow up in the town that I did, filled with people like me. And although it's nice being surrounded by people of a similar demographic, I've grown to feel almost trapped in something. Piedmont is a prominently Caucasian town filled with extremely wealthy families, of which we are not. I've always felt close to my peers but they're on a total different financial level than me. And this wealth creates a sort of distorted reality which all my peers live in. As I've gone out more in the world and experienced different communities and cultures I've realized that I crave this difference. A culture that is welcoming, vibrant, exciting, loud, energetic…the list goes on. At first I wasn't really sure where I wanted to go abroad. But when I found myself scrolling on the Barcelona trip I couldn't shake this drawing energy of its culture and life. The spirit of the city seems so exhilarating and that's the type of energy I crave. In Barcelona, it seems as though there's always something going on that celebrates its history, culture, and people. That pride and belonging is something I yearn for. I'm more than ready to get out of my small home town of Piedmont to broaden my horizons and experience a culture so vivacious as Barcelona.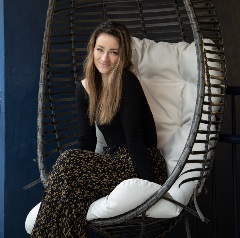 Madrid, Spain
Nora Squires, MOJO Lite

DePaul University
I view study abroad as a time to immerse myself in the Spanish culture. It is a time to learn, a time grow, and a time to make everlasting memories. Although I have always loved traveling and exploring new places my whole life, study abroad is an opportunity that I know cannot be replicated. Certainly, I could not miss out. I fell in love with the Spanish culture in high school. I aspired to continue my studies in college and eventually make it abroad. It was my goal to one day reach las calles after years of reading, listening, watching, and learning about the culture. Since I have never traveled to Spain, I am looking forward to making each day unique. While this will come with discomfort, lack of direction, and many other challenges (I am sure of), new experiences also include new friends, perspectives, and endless stories to tell after departure! Additionally, I am looking forward to visiting other cities and even countries!
Paris, France
Madyson Taff, MOJO Lite

Cal Poly - San Luis Obispo
I chose to study abroad because I have always loved traveling and learning about new cultures. I think that studying abroad gives students a chance to fully immerse themselves into a new culture and experience something unique. It definitely takes courage to move somewhere unfamiliar but is very rewarding. I chose to study in Paris for many reasons, and my main reason is that I have been studying the French language and culture for 7 years. I'm very excited to dive into French fashion and food. I've also always wanted to live in a city, and Paris seems like a beautiful one. I am most looking forward to getting uncomfortable and learning from it. I want to come out of this experience knowing how to communicate with strangers and with different cultures. I think that there is a lot of value in putting oneself in a completely new environment then figuring things along the way.
Barcelona, Spain
Maddie Varga, MOJO Lite

University of Oklahoma

Originally, I chose to
study abroad in Barcelona
, Spain because of my love for traveling and experiencing new places. I wanted to push myself outside of my comfort zone to meet new people and be engulfed in a strong European culture while exploring a new city and surrounding countries. Barcelona is such an international city with a melting pot of various European cultures. I decided to go to Barcelona because it had everything I wanted in a study abroad city: local Spanish culture, strong business classes, beautiful beaches, rich European history, expansive inter-country travel system, and a CEA study center! I am most excited to explore Barcelona and live like a local college student. I am also looking forward to being able to easily travel to other Spanish cities and taking short train rides or easy flights to various surrounding European countries!
Madrid,Spain
Maddie Kleinschmidt, MOJO Lite


West Texas A&M University

I chose to study abroad to enhance my experience with foreign cultures, people, and places. As an international business major, it was important for me to make sure I had long-term experience abroad during my undergraduate career. I chose Madrid, Spain, because it would not only fulfill my experience requirement, but also allow me to travel and live in a place I have always wanted to visit! Immersing myself in a Spanish-speaking culture would also help me improve my language skills and allow me to put myself in situations where I am forced to practice... of course, not to mention Spain is beautiful!! I am most looking forward to getting to create meaningful connections with the locals, as well as students within my program. I love interacting with different cultures and getting to know others on a personal level, so I am excited by the possibilities for friendships and lasting connections that living in a new country will bring.

Alicante, Spain
Juliana Gray, MOJO Lite

Eastern Connecticut State University

I am studying abroad because of the benefits it will have for me personally, academically, and occupationally. Studying abroad in Alicante, Spain, in the Intensive Spanish Language Program will provide me with opportunities to meet new people from diverse backgrounds, learn about the Spanish culture, and ultimately learn the language which is my biggest goal while being abroad. I look forward to meeting new people from all over the world, experiencing new cultures and lifestyles, and ultimately learning the Spanish language.




San José, Costa Rica
Jake Johnson, MOJO Photographer

University of Tennessee

I love people, and the best way to meet people is to travel. I chose to study abroad to meet people, to be fully immersed in another culture, and to gain a greater understanding of the world. I also love coffee. I have been a barista, roaster, and manager in the specialty coffee industry for several years. Costa Rica is the only country in the world where every bit of coffee grown is Arabica, which is the only coffee that the industry uses. I chose San Jose to learn more about growing, harvesting, and processing coffees; and to build relationships with several farmers who produce some of the finest coffees the world has to offer. I imagine myself one day being able to lead coffee origin trips to Costa Rica, and I believe that the study abroad program will provide a wonderful foundation for me in that.
Barcelona, Spain
Hope Brown, MOJO Blogger

Lynn University
I've always enjoyed traveling and knew studying abroad would not only broaden my experience but let me explore other cultures while furthering my education internationally. I love the rich sport culture in Barcelona, and I love being able to experience and learn about all the ones present in Spain. Since I have never traveled to Spain, I am looking forward to making each day unique. While this will come with discomfort, lack of direction, and many other challenges (I am sure of), new experiences also include new friends, perspectives, and endless stories to tell after departure! Additionally, I am looking forward to visiting other cities and even countries!
Prague, Czech Republic
Hannah Frankel, MOJO Photographer
Syracuse University

I wanted to take advantage of this once-in-a-lifetime opportunity to live in another country and expand my cultural and professional understandings outside of the United States. I chose Prague because of how beautiful and centralized it is in Europe. As a photographer, I couldn't resist the perfect photographic opportunities here. I am most looking forward to the people I will meet in Prague and the photographic opportunities I will come across. I am also looking forward to traveling to other countries!

Madrid, Spain
Chloe Yates, MOJO Videographer

DePaul University

I studied abroad in Costa Rica and it was such a fantastic way to immerse myself in the Spanish language and a culture completely different from my own. Spending an entire semester in Madrid, Spain, studying and discovering new things sounded like a dream! I have studied Spanish for a long time, but I rarely ever get the opportunity to use what I've learned. I've never been to Europe and Spanish culture has always been an interest of mine. I'm most excited to connect with new people and discover a new way of living. The "college experience" will be so much different than the last year that I spent at home!



French Riviera, France
Cami Ten Napel, MOJO Lite
University of Oklahoma

I've lived in the same suburb of Texas my entire life and have always had a desire to immerse myself in a completely different culture from mine. Studying abroad was an opportunity to do that while also getting my education, and the benefits of going abroad in your early twenties are unmatched. I wanted a place where I could find it all - beach, city, mountains, etc. The French Riviera is the most beautiful places I've ever seen, and the culture of the South of France is so dreamy. Antibes has the small-town, laid-back energy that I love, while also being centrally located near all the other European locations I hope to visit in my time abroad. During my abroad experience, I'm most looking forward to getting out of my comfort zone in many different ways. Through a new language, a new city, a new school and new systems, I'm certain there will be countless uncomfortable moments, and that excites me. I can't wait to look back on my growth throughout this semester. Nothing grows in comfort zones!
Barcelona, Spain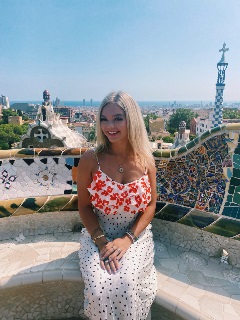 Madison Park, MOJO Videographer
Lynn University
I chose to study abroad to challenge myself to gain independence in a new beautiful environment. Change happens naturally, but I wanted to grow in different ways and Barcelona will give me the feeling and life lessons that I'm looking to endure. I wanted to be inspired by something greater than my understanding. Also, doing my part in society by learning about new cultures and seeing the rest of the world is something everyone should do. Knowledge is power, and the world has so much to give. There was no specific reason why I chose Barcelona. The second I saw it as an option I knew it was where my next journey was going to be!
---
Read more about our CEA Content Creators.