University:

Email Address:

Phone Number:

CEA Directory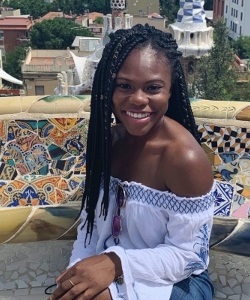 Grove City College
Aix-en-Provence
Summer 2019
Rohanna Foote, Alumni Ambassador
Alumni Ambassadors
1. How has your study abroad experience shaped you?

Studying abroad this summer in Southern France was by far the best experience of my life. Though I was there for only a short 6 weeks, I believe that this opportunity has allowed me to find new interests, examine new perspectives, gain life experience, as well as gain global connections while being able to demonstrate by leadership skills. I can confidently say that studying abroad has helped to grow my cultural footprint, and has made me a more open and healthy well-rounded individual. In those 6 weeks, I was able to interact and work with people from other countries, understand the layers and intricacy of global issues, and have greater intercultural learning. I believe that those are things that are learned through practice and experience. Because of how meaningful my experience abroad was, I am currently working towards moving and starting a career in France.

2. What do you wish you had known before going abroad?

One of the things that I wish I had known before studying abroad is to take in every experience, because it all flies by so fast. The most important and strategic thing that I wish I had known was the importance of budgeting, spending smart and keeping track of the money that you spend. When you are in a new country, it is easy to get excited and a little carried away with your money. If you create a budget of how much money you would like to spend on food, shopping, travel, and miscellaneous, you can avoid overspending. Being prepared and organized with your money can make it easier to plan where you want to go and activities you want to do. For example, if you decide to travel while you are abroad, knowing how much money you have to spend on that trip will determine the arrangements you make when it comes to hotels, transportation, site seeing, etc.