University:

Email Address:

Phone Number:

CEA Directory
international operations Leadership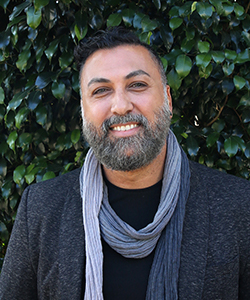 Ahmad Refky
Vice President of International Operations
Ahmad is originally from Cairo, Egypt, where he lived for 22 years. His first foray into study abroad came when he lived in the U.S. as an exchange student during his senior year of high school. That experience inspired him to work in international education, where he has built his career over the past decade. After graduating with a BA in International Relations from the American University in Cairo, Ahmad immigrated to the U.S. in 2001, where he pursued his graduate studies at DePaul University and studied abroad in The Netherlands as part of the Summer Institute on Sexuality, Culture, and Society.

Ahmad's first position in the study abroad field was as a Group Study Exchange Coordinator at The Rotary Foundation, where he worked on short-term exchange programs for young professionals interested in learning how their vocations are practiced internationally. Next, as a Training and Development Manager at the Center for Cultural Interchange, Ahmad trained field staff on J-1 visa regulations and worked with vendors to develop an online application and monitoring system for exchange students. He was also the Illinois Regional Director, responsible for recruiting field staff and placing students with qualified host families during their academic year in the U.S. Finally, Ahmad served as a College Relations Manager for Customized Programs at IES Abroad. During his four-year tenure, he oversaw the development of short-term, quarter, and semester-long programs for schools in 17 states, and represented the organization in regional, national, and international conferences.

An avid traveler, Ahmad has traveled to Lebanon, Indonesia, France, The Netherlands, Belgium, United Kingdom, Canada, Mexico, and Costa Rica. He looks forward to traveling to Italy, Spain, Morocco, Australia, New Zealand, Argentina, Brazil, and maybe one day Antarctica.
...
MORE
Read More
international operations Team
Cali Orr
Manager of International Operations—Program Administration
Cali Orr serves as one of CEA's International Operations Managers, working across departments and locations to ensure memorable study abroad experiences. As an International Operations Manager, Cali focuses on the effectiveness and efficiency of onsite policies and procedures.

Cali has worked in international education and operations for the past seven years with a focus on streamlining interdepartmental operations. Her work has allowed her the opportunity to work onsite, collaborate with both domestic and international staff, and leverage her background in research, tourism, and logistics.

Cali's love of travel and international education stems from her semester abroad in Viña del Mar, Chile. After this experience and receiving dual Bachelor's degrees in Psychology and Spanish from Denison University, she returned to northern Chile to teach English. Later, she returned to the U.S. as a Host Family Coordinator and obtained her MBA at American University in Washington, D.C., while working as a Program Manager for domestic programs. Cali has traveled to 17 countries and strongly believes in the transformative power of study abroad.
Education:
MBA, American University- Washington, D.C.
BA, Psychology and Spanish, Denison University- Granville, Ohio
Semester Abroad- Viña del Mar, Chile
English Teacher Abroad- Arica, Chile
...
MORE
Read More