The term "culture shock" defined by the Oxford Dictionary is the feeling of disorientation experienced by someone when they are suddenly subjected to an unfamiliar culture, way of life, or set of attitudes. It is quite normal when traveling to a new places, and depending on the person it may be a good or bad experience, but it is an experience that one wasn't familiar with before but usually adjusts to in the process of getting familiar with a new place.
Spain is definitely no exception when it comes to this idea. This country has its own quirks that surprises many individuals from the USA or any country outside of Spain for that matter. I specifically choose seven during my first week because literally everyday was a new surprise for me within my first week of arrival in the country.
1. Breakfast is a Very Light Meal Here
I'm starting off with this one because this I experienced on my flight before I even set foot in Spain. The stewardess gave me two options of a banana or muffin then came coffee and tea. I then saw everybody put up their trays and was very surprised. I was personally expecting eggs, yogurt, bread, etc. In Spain and many European countries, breakfast is generally something sweet like a croissant, pastry, muffin, or a fruit accompanied by tea or coffee. The heaviest meal here is actually lunch consisting of an appetizer, entree, and dessert, while dinner is a light meal. The main go to breakfast item I've seen people eating is a croissant with a café de leche (milk coffee).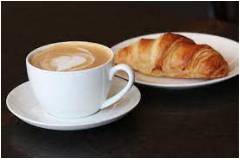 2. Expect Very Casual Friendliness
I experienced this in the airport before I formally set foot in Spain. I asked a woman for directions and she replied por este pasillo cariño (down that aisle sweetheart/darling/cutiepie). After saying gracias to a lady in a store, I heard de nada guapisimo (You're welcome handsome). I've also been called amor (love), corazón (heart), and precioso(cutie). Women may hear cariña, guapisima, preciosa, bonita, or even reina (queen). These are terms of endearment that one uses on their partner or children, but in Spain someone casually using these terms on you is in no way flirting or hitting on you. They are just being Spaniards. Casual friendliness is a part of the culture here that you'll get use to. The closest equivalent in the USA would possibly be an old lady calling you dear so this didn't shock me much, but it might be a huge culture shock to those coming from areas where strangers do not give these types of terms to the opposite gender.



3. Politics is Discussed in Public
I was waiting for my flight to Barcelona in the Madrid Airport and I struck up a conversation with an old lady. As soon as I told her I came from the USA she immediately started criticizing our healthcare system, expensive college tuition, military spending, gun laws etc. I wasn't at all offended since I'm very apolitical, but I was really shocked that you can discuss politics with a complete stranger and especially criticizing the government of a foreigner. This however might not be the case with everybody and was probably just an isolated case with me alone, but in Spain politics is not as a taboo topic of discussion as it may be in the USA. Especially when in Barcelona I do hear people talk about many things such as the Catalonia movement, economic situation, EU issues, and other contemporary issues in cafes or the metro. It seems that in Spain politics is not as polarized as it might be in other countries and people have friendly debates about many issues while at the same time respecting the other persons opinion.



4. Tortilla is Not Tortilla
When I was in the market I asked where to find tortillas (the flatbread) and I was shown the food item which is the picture below. In Spain, tortilla is short for tortilla de patata otherwise known as Spanish omelet which is an omlet mixed with potatoes and onions and is a popular appetizer in bars, cafes, and restaurants. To refer to the flatbread you can use tortilla de maiz (corn tortilla), tortilla, el pan (tortilla, the bread), or tortilla mexicana (Mexican tortilla). People in supermarkets may know what you refer to, but in outdoor markets expects for people to lead you to the omelet if you just say "tortilla".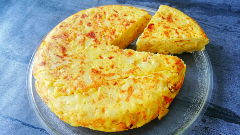 5. Supermarkets are Almost Like a Mall
Supermarkets here are so vast that they need to be two floors. The picture on the left is Mercadona and on the right is Carrefour which are two of the most popular supermarket chains all throughout Spain. The first floor in both of them are meat, fish, frozen items, produce, deli, spices, wines, oil, and pasta/sauces. The first floor also has bread, desserts, prepared foods, nuts, bathroom and other household items, personal care, and also beauty products. I was especially surprised to see a supermarket even in a mall itself. El Corte Ingles is like Macy's, where on the bottom floor is a supermarket and the tops floors are clothing, perfume, watches, and basically typical mall items. This was really shocking to me because it would be quite weird to me to see a supermarket in Destiny USA, Smith Haven Mall, Tanger Outlets, or other mall chains in the USA. The idea of going to different floors for different foods items like we see the individuals doing in the pictures below was really a mind boggling thing for me in my first week studying abroad in Spain.




6. Spaniards are Very Informal
This was really a shock to me because I later found out on my own that society in Spain is very informal. In Spanish class we were always taught to refer to strangers with usted, the formal second person pronoun meaning "you". Also using Señor and Señora which both means sir and madam respectively, but in Spain people will always address you like you're their best friend. For example, after asking for directions I would always say to people Perdoname para molestarle (Sorry to bother you) and the response would be No pasa nada, tio (It's nothing dude), No te preocupes chabal (Don't worry about it bro). As you can remark these are in the tu form, the intimate second person pronoun. Perhaps Latin American countries may follow language formalities, but in Spain society is very informal. Even when entering a cafe or restaurant you can expect to hear Qué Quieres (What do you want) or Dime (Tell me) rather than a polite "May I help you?" like we Americans are use to. These are in no way the locals being rude—it's again Spaniards being Spaniards. According to a Spanish professor of mine here Spanish society use to be very formal during the 40 dictatorship period under the fascist ruler Francisco Franco, and Spaniards being very informal with each other is a way to disassociate from that dark past. Whatever the case may be, when in Spain everybody is your friend!




7. Everything Here is Very Small
When I first moved into my apartment I was initially shocked to see everything being really small and narrow from the bedroom, the kitchen, and even the balcony being every narrow. I initially thought that my study abroad program was being frugal, but I later found that I live in one of the most residential areas of Barcelona and the size of rooms in my specific apartment is somewhat above average. Everything in Spain is quite small from houses, to food portions, and even people themselves. Spaniards live life on the lighter side and moving in may initially be a surprise to Americans or other societies where we're used to having spacious homes and large food portions. I can't speak for hotels or other lodging, but when living in a Spanish apartment expect things to be less spacious than what you're used to.



---
Nishkreenchan Chowdhury is the Spring 2022 CEA MOJO Blogger in Barcelona, Spain, and is currently studying at Syracuse University.